A Closer Look:
The AMD Phenom ™ II X2 560 BE has an estimated retail price tag of $105, the closest competitor from Intel is the E8400 Wolfdale at3.0 GHz which has (at the time of this review) a price of  $169. By the time you have hit the i5 and i7 processors you are spending a minimum of $200. A money minded consumer would see this as a no brain choice.
Our Test Rig:
Software Parameters
Windows 7 X64 Home Premium N
Geforce driver 8.17.12.5896
All Updates
ASUS ROG Connect
Benchmark and Informational Software Used:
SiSoft Sandra
Whetsctone
ScienceMark
PassMark
CPU-Z
Overclocking:
Overclocking was done via the ROG connect which is built into the ASUS Crosshair IV Formula Motherboard. This is a feature that anyone who into overclocking should experience at least once. With the ROG connect software installed on a neighboring PC (in our case we used an HP mini), we were able to quickly adjust the voltages of the motherboard and processor in a matter of seconds on the fly and save the configuration to the HP mini for when we pushed the processor too far and the PC locked up, we were able to quickly pull up the last saved settings and load them up and use them as a baseline to adjust in a different way. This process slices hours off what otherwise could take days of trial and error.
| | |
| --- | --- |
| | |
| ROG Connect at Stock voltages | ROG connect Overclocked to 4.01GHz |
| | |
| --- | --- |
| | |
| AMD Phenom II X2 560 at Stock | AMD Phenom II X2 560 OC to 4.1GHZ |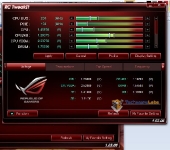 Single Core overclocked to 4.5GHz.
We were able to overclock the Phenom II 560 all the way up to 4.3 at one point, but it was becoming unstable to the point that only the WinRAR benchmark would run. Other benchmarks would lock up the system, so the most stable speed we were able to obtain with both cores was at 4.01GHz. When I disabled one of the cores I was able to bump the speed up to 4.5GHz before a crash dump.  When playing DIRT2 with just one core at 4.5GHz the game was a little sluggish compared to running the same processor with dual core as 3.3GHz. So unless you have a program or game which does not utilize dual cores we suggest you leave the second core enabled, For reference we were able to get the AMD 560 up to 4.5GHz (unstable at 4.8GHz) on air cooling. Given an adequate water cooling system we are sure that this processor would have gone much further and still be stable.