Introduction

AMD has certainly been making waves of late; their announcement of the Fusion architecture is certainly a shot across Intel's bow. The higher end equivalent, code-named Bulldozer, promises to make significant strides forward on the high end. All of that is somewhere down the line, though. AMD has to get their New York fab on line before the new Fusion and Bulldozer chips can be made; both are based on a 32nm SOI process, rather than the Athlon II's and Phenom II's 45nm design.
For now, AMD is wringing every last drop of performance out of the current AM3 architecture, offering frequent speed bumps and price drops as they introduce CPUs that grow ever closer to the theoretical ideal of the Thuban design. To that end, today we're taking a look at the latest and greatest from AMD's Dresden fab, the Phenom II X6 1100T Black Edition.
AMD's Take
Phenom II(tm) X6 1100T Black Edition Processor Specifications:

Model Number & Core Frequency:
X6 1100T / 3.7GHz (Turbo) / 3.3GHz (Base)
OPN:
HDE00ZFBK6DGR
L1 Cache Sizes:
64K of L1 instruction and 64K of L1 data cache per core (768KB total L1 per processor)
L2 Cache Sizes:
512KB of L2 data cache per core (3MB total L2 per processor)
L3 Cache Size:
6MB (shared)
Total Cache (L2+L3):
9MB
Memory Controller Type:
Integrated 128-bit wide memory controller *
Memory Controller Speed:
Up to 2.0GHz with Dual Dynamic Power Management
Types of Memory Supported:
Unregistered DIMMs up to PC2-8500 (DDR2-1066MHz) -AND- PC3-10600 (DDR3-1333MHz)
HyperTransport 3.0 Specification:
One 16-bit/16-bit link @ up to 4.0GHz full duplex (2.0GHz x2)
Total Processor-to-System Bandwidth:
Up to 37.3GB/s total bandwidth [Up to 21.3 GB/s memory bandwidth (DDR3-1333) + 16.0GB/s (HT3)]
Up to 33.1GB/s total bandwidth [Up to 17.1 GB/s memory bandwidth (DDR2-1066) + 16.0GB/s (HT3)]
Packaging:
Socket AM3 938-pin organic micro pin grid array (micro-PGA)
Fab location:
GLOBALFOUNDARIES Fab 1 module 1 in Dresden, Germany (formerly AMD Fab 36)
Process Technology:
45-nanometer DSL SOI (silicon-on-insulator) technology
Approximate Die Size:
346mm2
Approximate Transistor count:
~904 million
Max TDP:
125 Watts
AMD Codename:
"Thuban"

*Note: configurable for dual 64-bit channels for simultaneous read/writes
So, what we're seeing here is about what you'd expect: specs identical to the 1090T save the clock speed, which has been bumped up a bit. AMD seems to be following the Agile development tenet of "release early, release often" with regards to their CPUs; the clock speed bumps doubtless reflect optimizations in the fabrication process that have tightened the tolerances.
Here's a glamor shot of the CPU itself: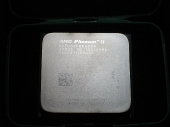 Test Setup and CPU-Z Info
All tests were performed on the following system:
Test System
CPU
AMD Phenom II X6 1100T Black Edition @ 3.3GHz
Heatsink
GlacialTech Igloo 5760
Motherboard
Jetway Hummer HA-09
Chipset
AMD 890GX
Graphics card
Sparkle GeForce GTX 465
RAM
2x4GB SuperTalent DDR3-2000 @ 1600MT/s, CL9
Sound
Creative Sound Blaster X-Fi Titanium HD
SSD
Crucial RealSSD 256GB SATA 6Gb/s
HDD 1
Seagate 7200.10 500GB
HDD 2
Western Digital Caviar Green 5400RPM 500GB
HDD 3
Western Digital Caviar Green 5400RPM 1.5TB
Power Supply
Sparkle Gold Class 850W
Case
Silverstone Fortress FT-02
OS
Windows 7 Ultimate
Drivers
Catalyst 10.11, Forceware 258.96
And here's all the info from CPU-Z: