Amped Wireless Debuts High Power AC1300 Wi-Fi Router, Extender and Access Point featuring MU-MIMO Technology
ARTEMIS High Power AC1300 Wi-Fi Router, Range Extender and Access Point deliver up to 12,000 sq ft of Wi-Fi and more bandwidth for demanding multi-user, multi-device households
Las Vegas, NV, January 6, 2016 – Amped Wireless, the leading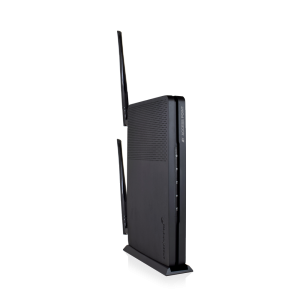 manufacturer of high power, long range wireless solutions for the home and office, announced its new ARTEMIS collection, at the 2016 Consumer Electronics Show. The new collection includes a High Power AC1300 W-Fi Router, Range Extender and Access Point with MU-MIMO technology.
Designed to deliver superior, yet affordable, performance and reliability in households with extremely high Wi-Fi demand, the ARTEMIS Router, Range Extender and Access Point feature eight High Power amplifiers and two high gain antennas. All three devices deliver unprecedented Wi-Fi coverage and speeds up to 450 Mbps on 2.4GHz and up to 867Mbps on 5.0 GHz. With the added benefit of MU-MIMO, Wi-Fi speeds will not slow down or lag when multiple users are streaming, downloading or browsing the web.
Larger homes with multiple stories, garage or basement work stations and other areas that have traditionally been difficult to beam Wi-Fi to will be well covered by the ARTEMIS line. This ARTEMIS-EX Range Extender can extend the reach of any existing Wi-Fi router to provide up to 12,000 square feet of additional coverage. While the ARTEMIS Router is the perfect replacement for an outdated router and provides unmatched range and performance in hard to reach areas as well. The ARTEMIS-AP Access Point can be used in addition to any existing Router to provide unprecedented reliability and coverage, bringing long range Wi-Fi to an outdated network. The ARTEMIS collection can tackle concrete walls, layers of insulation and stream through doors and windows, for powerful network connections from any corner of a home or yard.
"Every home is being inundated with Wi-Fi devices. Tablets, televisions, gaming devices and smartphones are staples in the everyday household and those are just the beginning," said Lacey Limbrick, Brand and Marketing Manager at Amped Wireless. "The Wi-Fi hardware has to keep up with this demand and that is exactly what the ARTEMIS line does. It is ready for the average home's demand right now and for what is to come in the future."
"Qualcomm MU | EFX Muti-User MIMO technology helps Wi-Fi networks multi-task like never before," said Gopi Sirineni, senior director of product management, Qualcomm Atheros, Inc. "Not only can routers support more devices at once, but the extra efficiency is designed to provide up to 3 times faster connections and capacity especially in crowded high-demand networks for MU-MIMO enabled smartphones, laptops, tablets and other media devices. We're pleased to provide this technology to Amped Wireless for such a stellar new router."
All three devices in the ARTEMIS collection are equipped with MU-MIMO technology, 5 Gigabit ports and a USB 3.0 port for file sharing. By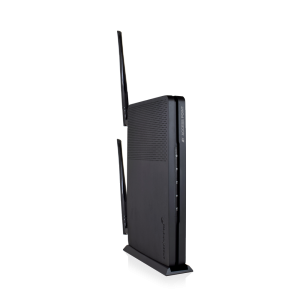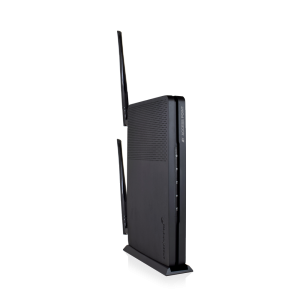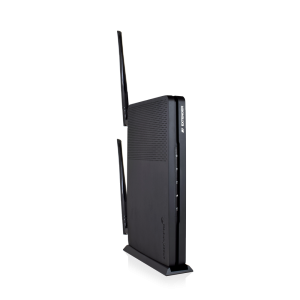 incorporating Qualcomm® VIVE™ with Qualcomm® MU | EFX Multi-User MIMO technology into the design of each solution, users will experience up to three times faster Wi-Fi to compatible smartphones, tablets, laptops and televisions, all at the same time. The ARTEMIS collection is designed for peak performance on what other routers, range extenders and access points would consider to be a crowded network. Standard Wi-Fi networks deliver data to one device at a time, while MU-MIMO is built for multi-tasking as it simultaneously serves to multiple devices on the network, providing faster speeds, shorter download times, and an excellent user experience.
The ARTEMIS, ARTEMIS-EX and ARTEMIS-AP are all affordably priced at $129.99 and will be available for order from ampedwireless.com in April.
About Amped Wireless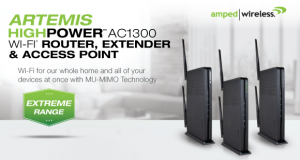 Amped Wireless is an award-winning provider of long-range, wireless consumer and business communication products for the home and office. Ranked 16th in the 2013 Inc. 500 and 1st in the Computer Hardware Industry, Amped Wireless' mission is to develop the highest quality, long-range wireless products through experience, passion, innovation and advanced technology that exceed customers' needs and expectations. For more information on Amped Wireless, The Leader in High Power Wireless Solutions™, please visit the Amped Wireless website at www.ampedwireless.com
Qualcomm and VIVE are trademarks of Qualcomm Incorporated, registered in the United States and other countries Qualcomm VIVE and Qualcomm MU | EFX are products of Qualcomm Atheros, Inc. Wi-Fi is a registered trademark of the Wi-Fi Alliance. Other products and brand names may be trademarks or registered trademarks of their respective owners.