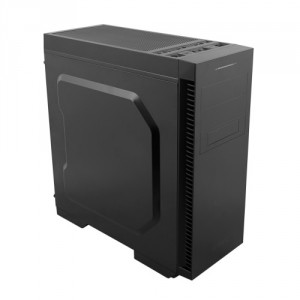 Antec P70 Silent, Expandable, Build Friendly
When a sleek, minimalist, mid-tower framework and expandability are on your must-have list, the Antec P70 does a great job. It's accommodating for power users while maintaining a simplistic approach. The name of the game here is silence, with the P70 case boasting modest sound interruption from your PC just to still know it's turned on, but not enough to feel like you're taking off in a Boeing 757.
The Antec P70 carries three 120 mm fans, two on top and one on the back. While other cases in this market segment give the option to add fans, they commonly do not include the fans themselves. These fans are covered by a removable honeycomb mesh that provides passage for airflow while concealing and reducing internal noise.
Tip: One can also reverse the orientation of the back panel fan for circular airflow from top to back.
Moving towards the front of the casing, a control panel is conveniently placed at the top of the case for easy eye-level access to fan switches with (Low / STOP / High) options. Below them is the main input station with two USB 3.0 ports, audio input and output, and two very eccentrically clicky reset and power buttons. I'm not going to lie: I had a moment of bliss pressing the buttons repeatedly. There is a sense of stability and responsiveness in them, sitting flush with the top design, which prevents any of the access points from getting caught on random objects.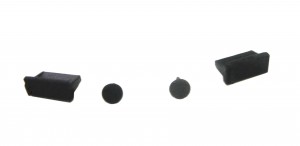 The P70 features one other small, yet icing-on-the-cake sort of amusement. I'm particularly susceptible to OCD habits, and if I find a way to improve something's efficiency in even the smallest detail, I find personal satisfaction. The ports on this case include little rubber plugs for the USB and audio ports, and since I know I'm not always going to use these ports, having them open at such an angle leaves them very susceptible to danger from dust, drinks, animals, and any other piece of matter affected by gravity. (Thanks, gravity.) Consequently, these rubber covers are a useful detail and a blessing in disguise that seems obvious in retrospect, but virtually unseen elsewhere.
Manufacturer Critique
This was a very well placed and oriented I/O console and control panel, but I feel like I can predict a common burden among users and a missed opportunity for a flawless feature. Let's be real: who actually can keep track of these rubber covers for more than a year? That's being modest; it's maybe a week for me. Why not attach this rubber to the case or the port itself? The efficient route would be to go the full nine yards and create a hinged door from the stamped-out remains.

Taking a look at the front panel, you can observe cutouts for 3 external 5.25" drives (optical media…or hot-swap hard drive bays, anyone?), though one does double-duty as a 3.5" bay as well, for that beige floppy drive you've kept around since 1997. An LED power indicator strip reminiscence of Robocop sits idly at the top.
That's all for the aesthetics; lets get down and dirty with the specs next!