Apotop Wi-Copy (DW21)
If there was ever a gadget that I would consider the Swiss army knife of its day, it would be the Apotop Wi-Copy (DW21). From school, to the airport, to the hotel, and back again, this pocket sized mobile device can transfer files wirelessly, act as a power bank for your devices, become your personal cloud storage, and acts as a personal router all without ever utilizing a PC. For $89.99, you can buy the Apotop Wi-Copy and experience true mobile convenience and versatility. Today we will be taking a look at the Apotop Wi-Copy's functions and performance. Apotop, a brand of the Taiwanese based Carry Technology Co , strives in bringing the most innovative storage and portable wireless products for all mobile users. If you are always on the move and rely heavily on your smart phone and tablet, I highly recommend you check out Apotop products.
Price: $89.99
Pros
Stylish and Sturdy
Compact design
Very Versatile and Reliable
Cons
Specifications
| | |
| --- | --- |
| Wireless Speed | Up to 150Mbps |
| Standards | IEEE 802.11 b/g/n |
|  Wireless modes | Router and Repeater |
|  Battery |  5200mAh Li-Polymer Rechargeable Battery |
| Security | WEP, WPA/WPA2, WPA-Mixed encryption |
| Network Protocol for File Server | SAMBA/FTP/HTTP/DLNA |
| SD Standard Support | SD, SDHC, SDXC |
| Wireless Storage Read/Write Performance |  9.05/6.65MB per sec (40MHz) |
| Available Ports | USB 2.0; SDHC/SDXC card slot; Ethernet RJ-45 10/100Mbps; Micro-USB for charging |
|  Dimensions | 3.5″ x 2.9″ x 0.9″ (L x W x H) |
| Weight | 6.17 ounces |
Features
USB/SD Card Wireless File Transfer between iOS or Android devices
5200 mAh Power Bank to charge devices
Simultaneous HD Streaming for up to 5 users from free App
Ethernet port for use as Hotspot
Full-Fledged Router Security Features
Repeater Functionality to extend other Router Signals
Compact Design
1 Year Limited Warranty
 Closer Look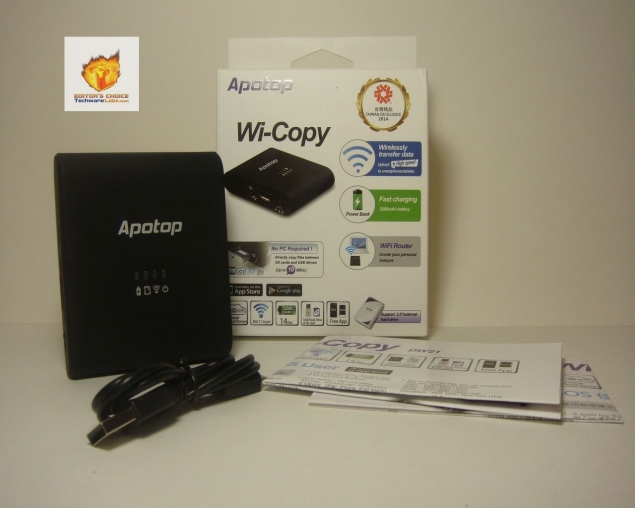 Included in the box is an easy to follow illustrated user guide, a 12in USB to Micro-USB, and of course, the Apotop Wi-Copy. Immediately, the first thing you notice is that the Apotop Wi-Copy is made out of a rubberized plastic that encloses the entire product, making it quite sturdy and impact proof. The Wi-Copy enclosure feels nice to the touch, but is a bit of an oil magnet.
Taking a close look at the pictures you will be able to tell that there is a USB, SD, Micro- USB, and eternity port surrounding the Apotop Wi-Copy. The biggest point of interest is the function switch; the button is safely tucked in for protection and used to set the Wi-Copy to "OFF", "Charge", and "Wireless"; the LEDs on the top of the device will indicate what function it is currently in.