I don't know if you knew this or not, but net-books as a rule do not have an optical drive. Most software manufacturers are moving towards down-loadable software, however some of us already own software. And what happens if you know the one person in existence without a USB drive, that needs to borrow that 200Mb file? There are dozens of reasons that it would be imperative to own a USB optical drive, and for all of those and more, archgon has released the MD-9102 Mobile Optical Disk Drive.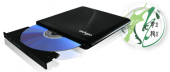 "Mobile Optical Disk Drive MD-9102 DVD Re-Writer is designed to be Feather-Light, Ultra Slim and Compact Portable optical storage device for 9.5mm Optical Hard Drive. With Glossy Surface, Streamlines Design, USB 2.0 interface and Plug & Play ability, MD-9102 present itself as elegant and noble digital device, the best choice for read & store your favor music, movies, picture and all other digital files. Powered by USB 2.0 Y Cable and with no adaptor required, it is a compact and portable External DVD Re-Writer for you to use in living room, office, school and library or even in Starbucks!
Weighted only 133.4 (Not include ODD) and 15mm thinness, MD-9102 has earned itself rightful place as one of the lightest and slimmest DVD-RW in the world."
When I read that I was reviewing a "9.5mm Optical Hard drive" I was really excited, I had never even seen or heard about one of them, nor did I have any Idea how I would go about testing it. While I was relieved by the fact that it was indeed an external optical disk drive, I was consoled by the fact that I finally had an optical drive small enough that I could bring it anywhere. Let's take a look and see if the drive is worth bringing all the way to your local coffee whole.
Specifications:
| | |
| --- | --- |
| Model Number | MD-9102-U2 |
| ODD Supply | 9.5 mm Sata ODD |
| External Interface | USB 2.0 |
| Housing Material | Plastic |
| Power Source | USB Type A-Mini B Y Cable |
| Dimension | 155.5 x 144 x 15mm |
| Weight | 133.4g |
| System Compatible | Win/Mac/Linux |
Features: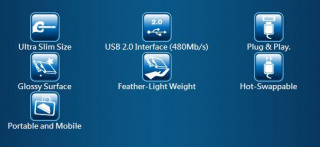 This features list is from the manufacturers website, I wish they had included the drive's disk compatibility on this page. but it does look nice. And in all honestly, the drives function and purpose are so simple they probably don't require any advanced specification.