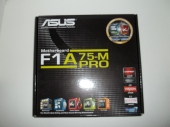 A Closer Look
Asus is well known for taking a motherboard and adding the features known to make the consumers happy.  Here they've added some cool features.
MEMOK! LED checks the RAM on boot up for errors.  This makes troubleshooting why a computer wont boot one step easier.
Easily accessible TPU and EPU switches for easy enabling/disabling of the their functions.
Easily accessible Clear CMOS jumper.
100% High-Quality Conductive polymer capacitors increasing the life of the motherboard.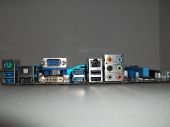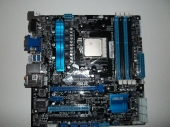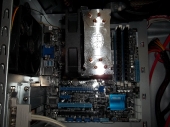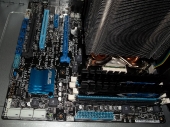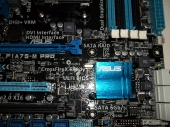 Included Software
Asus has included an UEFI Bios and some nice software to help the user have full control of the motherboard.  From monitoring fan speeds and temperatures, to on-the-fly overclocking: the included software does everything a user needs.  The "Tool" menu brings overclocking (both manual and automatic, depending on the APU), energy efficiency, fan controls (including profile types), and a fully-equipped sensor recorder (Temperature, Fan speeds, Voltages, Alarms).  While I believe the advanced user will already have a preference tool-set, this tool shouldn't be overlooked or disregarded.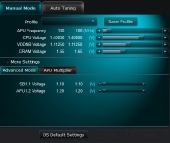 BIOS
This motherboard is one of many to make the jump and include UEFI Bios.  UEFI (Unified Extensible Firmware Interface) means the Bios included basic drivers to help the user navigate including mouse and USB drivers.  Along with those, Asus has included a screenshot feature for users who manually overclock.  Gone are the days of writing down each voltage/frequency/multiplier.  F12, screenshot, save to USB, done.  Shown below, this UEFI bios lets you choose between overclocking profiles and boot options as well as basic monitoring of fans, temperatures, and voltages.
Of course, Asus has included the advanced options for SATA, USB, and booting.