Introduction –
Over-clocking, Tweaking, and Optimizing, are just a few terms used by PC users whom TechwareLabs list as Extreme Gamers or those who are not just  looking to get a standard system, but are the ones who are willing to tweak their systems and get every last drop of performance. For those select individuals ASUS has built a motherboard like nothing that has been released to date. The ASUS M4A79 Deluxe is an over-clocker's dream when it comes to selecting processor, RAM, DRAM, North and South bridge voltages. Now, this may not surprise most of us who over-clock our systems, but how you select what the settings are is very suprising. The ASUS M4A79 deluxe allows you to manually enter the voltage for every line item listed so far and more using what they call "Step-less Frequency Selection." Prior to this all the options included choosing predefined range of voltages and settings which was very limited and could only be adjusted in some cases by .25Volt or greater increments. Taking it a little further, we have those motherboards which only have an option for just "Optimize," which is some predefined setting that was specified by the manufacturer with the processor, and video card of the month at the time the motherboard was just a prototype.  Essentially Asus has taken us from a hole in the wall resturant with a 2 page menu to a full buffet with enough choices for even the pickiest of eaters. So, since I have your attention, let us take a good look at the ASUS M4A79 Deluxe.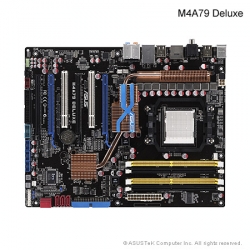 Specifications –
CPU
AMD AM3/AM2+/AM2 ;Phenom™II/Athlon™II/Phenom™/Athlon™/Sempron™ Processors
AMD 140W CPU Support
AMD Cool 'n' Quiet™ Technology
Support 45nm Phenom™ II CPU
Chipset
AMD 790FX/SB750
System Bus
Up to 5200 MT/s HyperTransport™ 3.0 interface for AM3 / AM2+ CPU
2000 / 1600 MT/s for AM2 CPU
Memory
4 x DIMM, Max. 16 GB, DDR2 1300(O.C.)/1200(O.C.)/1066*/800/667 ECC,Non-ECC,Un-buffered Memory
Dual Channel memory architecture
*Due to AMD CPU limitation, DDR2 1066 is supported by AM2+ / AM3 CPU for one DIMM per channel only. Refer to www.asus.com for the memory QVL (Qualified Vendors Lists).
**Due to OS limitation, when installing total memory of 4GB capacity or more, Windows® 32-bit operation system may only recognize less than 3GB. Hence, a total installed memory of less than 3GB is recommended.
Expansion Slots
4 x PCIe 2.0 x16 slots, support ATI CrossFireX™ technology (@ dual x16, triple x16 / x8 / x8, or quad x8 link)
2 x PCI 2.2
Storage
SB750 Chipset
1 x UltraDMA 133/100/66 for up to 2 PATA devices5 x SATA 3 Gb/s ports Support RAID 0,1,5,10,JBOD
1 x eSATA 3Gb/s port
LAN
Realtek® 8112 Gigabit LAN controller featuring AI NET 2
Audio
Realtek® ALC1200 8 -Channel High Definition Audio CODEC
ASUS Noise Filtering
Supports Jack-Detection, Multi-Streaming, and Front Panel Jack-Retasking
Coaxial / Optical S/PDIF Out ports at back I/O
IEEE 1394
VIA® VT6315N controller supports 2 x 1394a ports (1 at mid-board; 1 at back panel)
USB
12 xUSB 2.0 ports (6 ports at mid-board, 6 ports at back panel)
Back Panel I/O Ports
1 x PS/2 keyboard port (Purple)
1 x PS/2 mouse port (Green)
1 x S/PDIF Out port (Coaxial)
1 x S/PDIF Out port (Optical)
1 x External SATA port
1 x IEEE1394a port
1 x LAN (RJ45) port
6 x USB 2.0/1.1 ports
8-channel Audio I/O ports
Internal I/O Connectors
3 x USB connectors support additional 6 USB ports
1 x Floppy disk drive connector
1 x IDE connector
5 x SATA connectors
1 x IEEE 1394a connector
1 x CPU Fan connector
1 x Power Fan connector
1 x COM connector
Front panel audio connector
Chassis Intrusion connector
2 x Chassis Fan connectors
1 x S/PDIF Out header
CD audio in
24-pin ATX Power connector
System Panel (Q-Connector)
8-pin ATX 12V Power connector
1 x Power on Switch
1 x Reset Switch
BIOS
8 Mb Flash ROM
AMI BIOS, PnP, DMI 2.0, SM BIOS 2.5, ACPI 2.0a, ASUS EZ Flash 2, ASUS CrashFree BIOS 2
Manageability
WOL by PME, WOR by PME, WOR by Ring, Chasis Intrusion, PXE
Accessories
2 x ASUS CrossFire bridge cables
1 x Ultra DMA 133/100/66 cable
5 x Serial ATA cables
1 x Q-Shield
1 x User's manual
1 x Multi-functional module (1-port IEEE 1394a + 2-port USB2.0)
1 x 2 in 1 Q-connector (USB, System panel; Retail version only)
*The floppy disk drive cable is purchased separately.
Support Disc
Drivers
Express Gate
ASUS PC Probe II
ASUS Update
ASUS AI Suite
AMD OverDrive Utility (AOD)
Anti-virus software (OEM version)
Form Factor
ATX Form Factor
12 inch x 9.6 inch ( 30.5 cm x 24.4 cm )
Specification list from Asus' website Here
What is important to note here is that the ASUS M4A79 deluxe looks to be designed and targeted towards both gamers and overclockers. Of course many gamers are overclockers seeking to squeeze out the most performance from their rig so this makes sense. Why do we think its targeted towards gamers and overclockers? Lets look at the features: 4 PCIe 2.0 slots, 12 USB 2.0 ports, 8 channel audio, and as you will see below the ram voltage has 36 different settings. Now this is of course in addition to a host of additional features which all lend themselves to gaming and overclocking. The ASUS M4A79 deluxe is an AMD chipset board using the latest AMD CPU's which as you are certainly aware have ben shown to be amazing overclockers hitting 5 GHz and greater.