CPUZ:
CPU-Z is a freeware that gathers information on some of the main devices of your system. For processors it informs you of the Name and number, Core stepping and process, Package, Core voltage, Internal and external clocks, clock multiplier, Supported instructions sets, and Cache information.
Shown below is the information gathered from the Athlon II X3 435.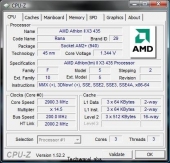 Overclocking:
Before even receiving the Athlon II X3 435, I had heard many say it could reach over 3.5MHz for the core speed without an issue. After taking up the RAM voltage to around 1.60, and the CPU voltage to around 1.35 and then pushing the bus speed to 246 I was able to retain a stable core speed of around 3.57MHz. I did at one point get the core speed to 3.71, however it was not stable and after loading a few programs it crashed quickly. Note that all my overclocking was done on air.
Information gathered after overclocking.