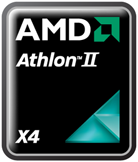 The New Athlon II X4
AMD has recently expanded the Athlon II product line to include quad core processors, under the codename Propus. We are going to be taking a look at the two new Quad-Core processors, the Athlon II X4 620 and Athlon II X4 630 which operate at 2.6GHz and 2.8GHz respectively. Both processors have 2 MBs of L2 Cache per core and are both 95W (45nm) processors.
They support the same features found in the other Athlon II models. These include features like NX bit, AMD64, Cool'n'Quiet, and AMD Virtualization.
The price point set for these processors are quite shocking, the AMD Athlon II X4 620 and 630 are priced at $99 and $122 respectively. Which puts it into the price range of a budget processor, but are these really budget processors or fully fledged gaming processors?
Originally, "Propus" was planned to be released in the first quarter of 2009, but has been pushed back more than 6 months past their original release date to today September 16th. Let's see if the wait was really worth it.
From AMD:
Built with the same great architecture as the Phenom II X4, Athlon II X4 represents real value at $99 for the 2.6GHz X4 620 model and $122 for the 2.8GHz 630. When an Athlon II X4 processor is combined with a sub-$100 motherboard featuring our 785G chipset, you have a perfect example of AMD's new mainstream desktop platform for Windows 7.

Value is at the heart of this platform which sets new standards for mainstream features. The 785G's graphics capability means users will have a smooth experience with dual-monitor support and strong integrated graphics. The new AMD Athlon II X4 processor will deliver multitasking capability and the platform combination will provide superior mainstream price-performance.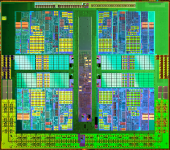 AMD Athlon II Processor Specifications:
Cache Size
L1 Cache: 64K of L1 instruction and 64K of L1 data cache per core

X2 > 256KB total L1 per processor; X4 > 512KB total L1 per processor

L2 Cache: 2MB total L2 per processor

X2 > 1MB of L2 data cache per core; X4 > 512KB of L2 cache per core

Process Technology
45-nanometer SOI (silicon-on-insulator) technology
HyperTransport™ technology links
One 16-bit/16-bit link @ up to 4.0GHz full duplex (2.0GHz x2)
Total Processor-to-System Bandwidth
Up to 33.1GB/s bandwidth [Up to 17.1 GB/s total bandwidth (DDR3-1066) + 16.0GB/s (HT3)]

Up to 28.8GB/s bandwidth [Up to 12.8 GB/s total bandwidth (DDR2-800) + 16.0GB/s (HT3)]

Types of Memory
Support for unregistered DIMMs up to PC2-6400 (DDR2-800MHz) -AND- PC3-8500 (DDR3-1066MHz), PC3 10600 (DDR3-1333MHz)
Die Size
X2 > 117.5 mm2;

X4 > 169 mm2

Packaging
Socket AM3 938-pin organic micro pin grid array (micro-PGA)