Take to the seas armed with BIOSTAR in your arsenal
April 25th, 2016, Taipei, Taiwan — BIOSTAR, in cooperation with Wargaming, proudly announces the superb gaming combination for World of Warship. Engage in historical, naval combat in this highly-anticipated free-to-play title and dominate the seas. World of Warships puts you in command of the most iconic warships in history as you take on other players in this exciting combat game.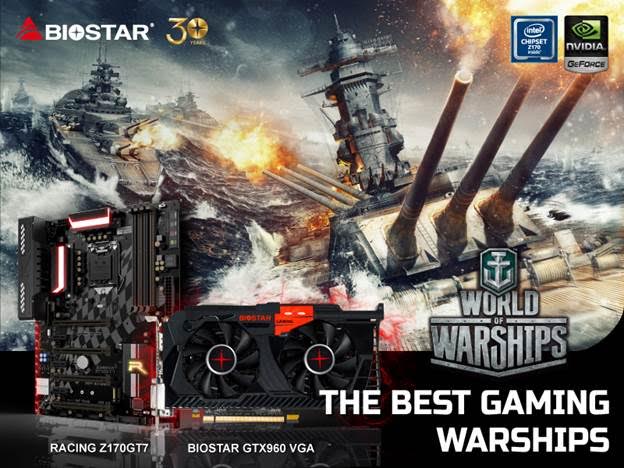 Choose from four ship classes, upgrade your ship with a myriad of parts and commence your salvo against the enemy in an exciting battle of strategy and tactical gameplay that only World of Warships brings.

Your Loadout for this Mission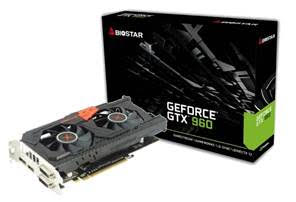 BIOSTAR gives you the right tools to conquer the high seas. Enjoy the stunning visuals of World of Warships and get the best performance with the latest BIOSTAR gaming components. An excellent combo, the BIOSTAR RACING Z170GT7 not only races through land but through the seas as it takes your warship and you to a whole new level of performance while the BIOSTAR GEFORCE GTX 960 gives you the best of what World of Warships has to offer, allowing you to crank up the detail settings and enjoy the game at its full, visual glory with stunning fidelity.
Download World of Warships for FREE at: http://worldofwarships.asia/en/content/game/
RACING Z170GT7 Specifications
CPU
LGA 1151 Processor
Power
9phase
Chipset
Z170
Solid cap
100% Solid
Memory
4xDIMM, support DDR4-3200
Expansion Slot
4 x PCI-E x16 3.0
3 x PCI-E x1  3.0
1 x M.2 32Gb/s (42/60/80mm)
Audio
7.1ch Blu-ray Audio w/ Double Hi-Fi
LAN
Intel i219V
Storage
3 x SATA Express  16Gb/s
Video
DVI-D, 2 x HDMI, VGA
USB 3.1 / 3.0 / 2.0
1 USB 3.1 (TYPE C)
7 USB 3.0 (2+5)
4 USB 2.0 (4+0)
Feature
Vivid LED DJ / Smart Ear
BIO-Remote2 / BIOS Online Update
Super 5 Design
Biostar has built the RACING series motherboard from the ground up, taking into consideration the ever-changing needs of gamers and enthusiasts. The new BIOSTAR RACING Series is proud to introduce the Super 5 Design Concept:
Super Face — all new racing design theme for visual appeal
Super Power — powerful hardware design
Super Sound — signature BIOSTAR HI-FI audio experience
Super Easy — User-friendly design and accessible touch control
Super Fun — unique DIY concept for enthusiasts and modders
BIOSTAR RACING SERIES FEATURES
The new BIOSTAR RACING Series features the all-new Racing I/O Armor which protects the I/O panel and components from dust and static.
Design your own LED effect with BIOSTAR Vivid LED DJ. Control your motherboard LED light via VIVID LED DJ utility including special effects like music-reactive LED animation.
Expand your chassis looks by connecting 5050 header-equipped LED strips directly on the motherboard and control it via the VIVID LED DJ. Perfect for DIY fans and modders.
GT Touch features one-touch mode selection: Sports mode for a performance boost and Eco mode for optimized energy consumption.
Designate on-board LED configuration for each profile individually VIVID LED DJ software.
BIOSTAR motherboard protection via DUAL BIOS technology ensures recovery during failed main BIOS removing the need for factory repair when corruption or BIOS failure occurs.
BIOSTAR GeForce GTX 960 Specifications
The BIOSTAR GeForce GTX 960 graphics card. Available with 4GB of VRAM, gamers can enjoy high-resolution gaming with the latest 2nd-generation Maxwell GPUs that promises high-efficiency and high-performance in World of Warships. Experience your favorite destroyer, cruiser and battleships with smooth visual fidelity and clear details with the BIOSTAR GeForce GTX 960.
With 1024 CUDA cores running at 1127Mhz and a boost clock of 1178Mhz, you can run the latest games at high settings to enjoy the most out of your gaming experience. Get the visual advantage of higher details in game so you can react better like it was meant to be.
GPU
BIOSTAR GeForce GTX 960
PRODUCT CERTIFICATION
SLI
PureVideo HD
Solid Capacitor
PRODUCT FEATURES
ROHS
DDR5
PCI-E x16
Dual DVI
HDMI
HDCP
Display port
ENGINE CLOCK
1127/1178MHz
MEMORY CLOCK
7012MHz
MEMORY SIZE
4096MB
MEMORY TYPE
DDR5
MEMORY BUS
128-bit
INTERFACE
Support PCI-E 3.0 x16
MAX RESOLUTION
Digital: 5120 X 3200
VGA: 2048 X 1536
OUTPUT
Dual-DVI
HDMI
Display Port
ACCESSORIES
Driver CD, Quick Guide
ABOUT BIOSTAR
BIOSTAR is a brand dedicated to the production of motherboards, graphics cards, industrial computing systems, IoT, and healthcare solution. Since its establishment in 1986, the BIOSTAR GROUP has become a major motherboard supplier in the IT industry as well as in IoT, Internet Of Things. In order to pursue the best quality and aesthetic design, BIOSTAR has invested heavily in ID design, equipment, global marketing research as well as R & D. With a constant emphasis on quality, BIOSTAR always seeks to beyond better and race to the future.
About Wargaming
Wargaming is an award-winning online game developer and publisher and one of the leaders in the free-to-play MMO market. Founded as a privately held company in 1998, Wargaming has shipped over 10 titles. Currently, Wargaming is focused on its team-based MMO war series dedicated to the mid-20th century warfare that includes the armored World of Tanks, the flight combat World of Warplanes, and the naval World of Warships. The three intertwined titles form a common gaming universe integrated within the portal www.wargaming.net. As part of its multi-platform line-up, the company has introduced World of Tanks on Xbox and World of Tanks Blitz on mobile and tablet. Launched in 2014 and 2015, World of Tanks on Xbox introduced epic tank-on-tank battles to console gamers and offers the first cross-platform gaming experience between Xbox 360 and Xbox One. In 2016, Wargaming released World of Tanks for PlayStation®4, continuing its console campaign. Official website: www.wargaming.com
About World of Warships
World of Warships is a free, historical, online combat game from Wargaming. Command a massive naval fleet featuring some of history's most iconic war vessels, level up important tech modules and prepare to dominate the oceans in World of Warships. With four classes of ships, myriad upgrades, and strategically designed environments, the action never ends and every match is a unique experience. World of Warships brings players endless hours of strategy, tactical gameplay and pulse pounding combat! Learn more about World of Warships: