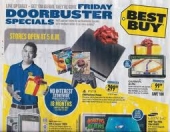 Everyone Makes a Mistake:
So the deal looked too good and you purchased that laptop that was a mere $400 only to find out it's a lemon. You ended up with a Celeron processor, a low resolution screen, 4200 rpm hard drive and 2GB of DDR2 ram. Now you want to return it and you have found out there is a restocking fee and you won't get your money back for 2-3 weeks at best.
Recovering from a bad purchase can be difficult, recovering from a Black Friday (BF) bad purchase  can be very difficult. So What do you do?  In this case the quote "the best offense is a good defense" is definitely appropriate. Knowing what you want to buy and being sure about that product before you go in is a good idea. Impulse purchases account for the majority of bad buys. Do your homework on Black Friday deals.  Here is some facts the retail stores don't want you to know:
The prices on some of these BF products have been inflated slowly over the previous months so that they can be cut on BF presenting you with the so called deal.
Restocking fees usually apply to most of the BF deals. 15% or more in some retail stores.
Some items can't be returned at all. Read the fine print or ask an employee.
Many BF deals require you to be at the location hours or days in advance to get in line, and get a ticket to get your item.
Products requiring a ticket to purchase are often very limited quantity.
Prices for the same or similar products online can often be the same or less.
Remember Cyber Monday follows Black Friday.
So you knew what you wanted, or thought you did, and you are now stuck in the position of having to try to return the product with the least hassle.  Good News! It can be done if you follow the simple 4 step process below with regards to the product:
Save your receipt.  This will greatly assist you in any return. No receipt no return is the policy of many stores.
Be realistic and don't try to scam the stores. If you purchased a laptop and used it for a week, loaded it up with viruses, programs, your holiday pictures, and more and now want to return it. The restocking fee really should be applied to you if you are allow to return it at all.
Don't destroy the packaging and paperwork. If the product can be put back into the box in the same condition in which it came out that too will help greatly.
Don't try to return a product after the returnable period. Read the receipt and ask in the store WHEN YOU PURCHASE THE PRODUCT, how much time and if the product can be returned.
When you go to return a product expect the store to be difficult. If the process goes easier then so much the better for you, but remember there will literally be hundreds if not thousands of people trying to return products after Black Friday. Be Patient. The following things will assist you in your return:
Be nice, you get more with sugar than spice. Plus it helps avoid being tasered by the police.
If you hit a restocking fee or brick wall that you feel is being unjustly applied to you ask for the manager of the store.
Present your case in a calm manner and stick firm to your request for a full refund.
If the store persists in stone walling you, get the store number, the managers name and number and ask to speak to someone from the corporation WHILE IN THE STORE. Do not let the manager walk away.
Let the manager obtain of someone from the corporation on the phone if you can, waste his/her time and not yours waiting on hold.
Repeat in front of the manager to the person from corporate that you are displeased with the situation, mention the managers name and store number, and that you will report this situation to the BBB (better business bureau) if you feel that's appropriate.
Raising your voice a bit (But remain calm)so others in the store can hear you  is also a good idea.
Usually these tips will assist you in getting your money back. Use them only if you are not getting your return handled in an appropriate way. We do not advocate the use of these tips to try to scam stores. Everyone has to make a living and if you purchased a product which you broke, or used and now just want to return then you should be subject to the applicable policies of the store.
Cyber Monday
When all is said and done it may be best to skip Black Friday, an event firmly located in the brick and mortar (B&M) retail world and wait for Cyber Monday. Cyber Monday is the term used to describe deals that can be found online. These deals often easily surpass the B&M deals of BF but also come with some "gotchas". Most notably you buy the product then have to wait for it to arrive like all online purchases. Other policies found in Cyber Monday deals are similar to those of the retail outlets such as:
Restocking fees
Limited quantities
Return periods
Product condition requirements
Really the primary difference between Cyber Monday and Black Friday are the savings and variety of products. Cyber Monday can often have much better deals and usually has a much better variety of products to choose from. The added benefit of Cyber Monday is that you can browse the store from the comfort of your home without having to battle hordes of people, long checkout lines, or waiting in the cold outside the store for hours.
A great cheat sheet for Black Friday Deals can be found here: