Got a Card?

Everyone does, and, until the professional world catches up with the digital age, you'll probably continue hearing that question pretty often, as the exchange of business cards has become a standard in almost every organization around the planet. Of course, like many people in the business world, we receive so many business cards that transcribing all that contact information into our phone or mail program can be tedious and very time-consuming. But who wants to carry a few hundred business cards around all the time?
Card scanners, often expensive, can ameliorate this task, but the software included has traditionally been less than stellar. The software relies on OCR (optical character recognition) to read and figure out what the text should say in order to translate that information into usable text in your system. A single wrong character can screw up your e-mail or phone call and negate the entire purpose of storing the information digitally. So how do you keep your information on you while untethering yourself from the physical card?
The desired concept is to scan the information and discard the card, so to speak. So, you can see where scanning correctly becomes very important. A bad scan results in bad information, and now you have thrown away the card when you need the information most. The Cardscan Executive by Dymo is an excellent solution that just plain works. Like many card scanners, it is a small device that uses a motorized mechanism to feed the cards in and scan the data. The Cardscan Executive operates via USB and can scan up to 30 cards per minute, and comes with drivers for the mainstream OS's: Mac OSX, Vista, and XP.
While all of this is great, the real hidden value is in the software that the Cardscan Executive uses, which really makes the package worth every penny.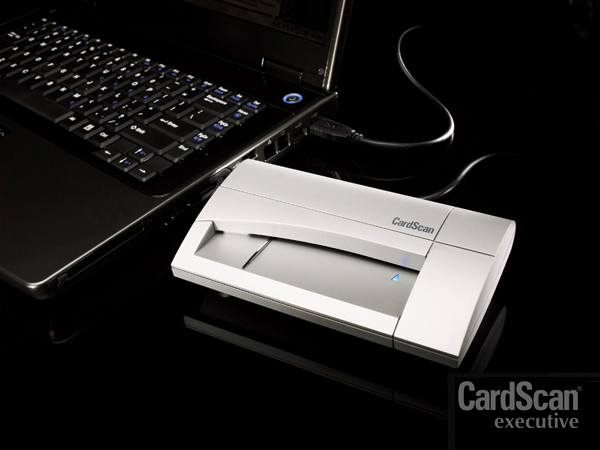 Next, let's take a look at the specifications and requirements to run the CardScan Executive.