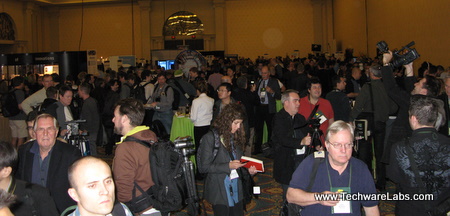 CES 2011: CES UNVEILED Roundup
The CES 2011 Trade chow produced by CEA will be the largest show held in Vegas since the inception of CES. CES Unveiled the first of press event of CES kicked off at the Venetian on Tuesday January 4th. Over 60 different companies comprised the sneak-peak event held a couple of days before the main trade show begins at the Las Vegas Convention Center this Thursday. Join us as we highlight some of this years exhibition products…
SATA Universal Storage Module (USM™) specification for portable storage applications enables developers to incorporate slots into televisions, game consoles, set-top boxes, computers, docking stations and other consumer electronic devices that will accept powered, cable-free storage modules with integrated powered SATA interfaces for expanding storage capacity. Devices based on the USM specification extend the speed and reliability of volume storage I/O to the consumer electronics market and eliminate the need for a separate cable of power supply.
nPower Hate knowing that your portable electronics will run out of juice before you get home from a day out? nPower has the solution, the PEG or Personal Energy Generator. Using the kinetic energy generated by walking the PEG will power your charge your portable electronics on the go via USB. Pack it in your backpack, connect to your portable device, and walk on… that simple
Liquid Image has the perfect gear for extreme sports and photography enthusiast, a lineup of goggles featuring photo and video cameras capable of HP 1080p H.264 video.

House of Marley previewed a long lineup of high end audio gear and accessories, ranging from headphones to full size portable boombox iPod docks.

Motion Computing , one of the many companies offering tablet pcs at this years CES, presented a line up including the F5, C5, and  CL900 Windows 7 tablet. The CL900 features an Oak Trail Intel Atom processor, up to 2GB RAM,  a 30GB or 62GB SSD, and front + rear video cameras (conferencing). The company talked about simplified future expansion options and the rugged business nature of the tablet device but were light on the details. Price is expected to start at $1000
iHome continuing their legacy of portable electronics accessories had a wide selection of Apple product accessories on display at the unveiled event. A great looking iPad dock featuring bluetooth connectivity was part of the display. This dock is also compatible with other iPod and iPhone devices making it a sort of universal dock for the Apple fan.

Lenovo U1
Be sure to follow us here at TechwareLabs.com throughout the week as we cover all the breaking news from CES 2011 here in Las Vegas!