Coverage of the "Lunch at Piero's" during CES 2011 included the lengthy list of companies below:
ABSOLUTE SOFTWARE, AOC, AVATRON, BITBOP, Brite-View, C3 Technologies, D-LINK, ENTERTAINMENT EXPERIENCE, ESCORT, HANNSPREE, IMMERSION DIGITAL, JUNOWALLET, LIVE EDITIONS, PALO ALTO AUDIO DESIGN, PHONE HALO, SPEAK WITH ME, VIA TECHNOLOGIES INC.
TechwareLabs took the time to speak with each company to get the latest news on each company's products and summarize it for you. First we would like to thank Pat Meier of lunchat.com for the opportunity to attend this event during CES 2011. Thank you Pat!
Some of the highlights from the lunch include the following:
ABSOLUTE SOFTWARE have developed software which offers the same sense of security as LoJack ® does for your car, for your laptop. The Lojack® for laptops product is both simple and intelligent in its design. It is a tiny self installing kernel embedded into several manufacturers bios's already. If you misplace or have your system stolen, the Lojack application will allow you to disable the computer and if necessary wipe the data remotely. The best part is that because it is embedded into the bios your laptop will still be recoverable even if the hard drive has been wiped.
HANNSPREE while you may not have heard of this company there is a good chance you have seen some of their products. They are best known for their creative television designs, however this year at Pierro's we got to go hands on with their brand new Android tablet. Called the Hannspad this 10 inch tablet featured a 1Ghz arm 2. It was running on android 2.2 and seemed to operate flawlessly.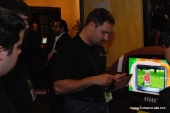 AVATRON is a leading app developer that demonstrated its popular Air Display and Air Sharing apps. These enable you to take your iPad or iTouch and make it an additional screen quickly and easily.
BITBOP is a new wireless subscription service delivering on demand mobile TV and movies directly to U.S. consumers' smart phones. In short BITBOP has taken the home media center and brought it to your mobile phone.
Brite-View had an impressive product which streamed HD 1080P uncompressed without latency across the restaurant.
C3 Technologies shows off the first software development kit (sdk) for creating mobile, social, geo-location applications that utilize the company's database of more than 100 photo-realistic 3D Maps. This was quite an interesting technology and we look forward to seeing where it goes from here.
D-LINK shows off a few products from last year and the Yahoo connected TV STB which is a product which after seeing it in action, I can't wait to have one of my own. (Press Release here)
ENTERTAINMENT EXPERIENCE is the world's first and only 3D, multi-dimensional color video technology with full modeling of color space, device characteristics, viewing environment, visual perception and adaptation. You can find the press release here.
ESCORT demonstrates their new PASSPORT iQ which is the world's first integrated radar detector with GPS Navigation.  The PASSPORT iQ had a nice 5" full-color touch screen and many other features that you would come to expect from a GPS but with a few additional features like radar detection, red light/speed camera alerts.
IMMERSION DIGITAL is a award winning interactive digital Bible which brings you easy navigation of the bible, but also gives you quick links to HD video, photographs, maps, and 3D virtual tours. Glo will be showcased on a portable touch-screen tablet (Dell Duo), and during Lunch at Piero's where we were shown on the iPad app which is slated to be available in early 2011.
JUNOWALLET is a mobile wallet and Gift Card App for iPhone and Android users. This Mobile Wallet is way you can give friends gift cards to different venues and while do so receive Juno points for more gift card redemption for using the service.
LIVE EDITIONS is a new ePublishing company, announces is cloud-based publishing tools. Ideally suited for publishers, universities, book clubs, and independent authors, Live editions opens up eBooks to include multimedia, publisher- or reader-contributed comments, sponsor enhancements, and dynamic updates such statistics and news developments.
PALO ALTO AUDIO DESIGN demonstrated their Cubik speaker system which was the talk of the Lunch at Piero's. The sound from this speaker system was so crisp and clear and even though it was playing in a crowded restaurant setting. Also demonstrated was the Musik speaker system which does not require an external power source and sounded great for a mobile speaker system.  This is a likely addition for those who resort to using their laptop's speakers and are looking for something small, light-weight and portable with great sound.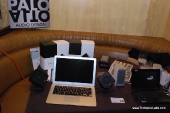 PHONE HALO demonstrated the lost prevention for your phone with three key points of Recover, Locate and protect. The software helps you recover your disconnected Bluetooth items once disconnect is triggered by recording the GPS coordinates and presenting to you via Google Map. The locate aspect acts like a 2 way finder by beeping your belongings at the press of a button. Finally the Protect aspect is a tether of your phone and a Bluetooth device. If the two items become separated, both items ring to remind you something is being left behind and the application locks your phone.
SPEAK WITH ME is an iPhone, iPod Touch, and iPad© application that allows users to control their mobile music library entirely with their voice. VoiceDJ is built on Speak With Me's device-based technology platform which delivers 99 percent accuracy.
VIA TECHNOLOGIES INC announces VIA Nano X2 Processor with low power requirements which doesn't compromise performance. Also demonstrated was the Android tablet powered by the Wondermedia Prizm platform.
Look for the review of these products in the near future on our site in 2011!