CES 2016: ToughTested Premiers Six New Virtually Indestructible Products and Innovation Award-Winning Earbuds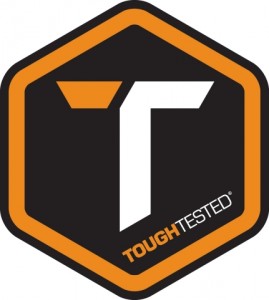 Exclusive polymer braid technology and rugged smartphone accessories on display in South Hall, Booth 30754 (LAS VEGAS, NV – Jan. 6, 2016) – ToughTested, a leader in rugged accessories for portable mobile devices, announces six new products in its array of virtually indestructible offerings for smartphones. The new products are on display in the South Hall, Booth 30754 at CES 2016. ToughTested products are inspected at three to five times the level of typical manufactured smartphone accessories, with features like a new durable protective polymer weave covering and tangle resistant braided nylon sleeve on its cables with specifically designed heavy-duty strain reliefs and reinforced stress points as a standard features in its power solutions, cords, and cases. Originally built for automotive, trucking and tradesmen, the workplace functionality of ToughTested can easily expand to other consumers who demand a more resilient accessory for work, home or travel.
The full list of items ToughTested that will premier at CES 2016 include:
• Eight-foot PRO USB charge/sync cable – With an exclusive woven polymer sleeve, the cord is stronger and thinner than previous models, and has chemical, heat, and abrasion resistant properties. A newly designed, strain relief offers long-lasting use and allows for charging without removing most protective phone cases
• Safe-Charge USB charging cord – The first of its kind, this charging cable protects expensive devices from over voltage, over current, and power surges that can occur due to everyday electrical disturbances, charger failures, and other factors inside the home or vehicle. • Transformer headset – Convertible wired headset with removable boom mic that can be used for gaming, driving, or listening to music with specific attachments for each particular use or gaming platform; the most versatile headphone on the market.
• Wireless Bluetooth headset – This ruggedized, water and dust resistant headset offers a 10x noise-cancelling mic, and can also be worn around the neck with high-performing external speakers for flexibility of use.
• ToughTested Bluetooth portable speaker & power bank – The dustproof, IPX65-rated waterproof speaker incorporates a wide-angle design and 50mm drivers to offer fullfledged surround sound for large work areas, doubling as a power bank to charge devices for six hours or play consistent music for 30 hours. Also included is a multi-LED power beam flashlight to offer utility from jobsite to campsite. The company will also have the newest line of certified noise control earbuds, backed by audiologists and sound engineers for hearing care and protection, with exclusive EQ-Voice technology, that adds clarity to phone conversations in noisy environments.
• The Jobsite – A 2016 CES Innovation award winner, the design features a Halo 360 degree microphone, certified noise reduction rating (NRR) of 23DB and has incredible utility for tough jobs and noisy urban areas • The Marine – boasting an IP67 rating to protect against dust and sweat, it features Kevlar reinforces cables for durability and are ideal for boating, fishing and exposure to the elements
• The Driver – Featuring a mono earbud for safe driving, The Driver provides comfort, clear sound, noise reduction and hands free convenience so users can keep their eyes on the road and ears on the conversation
• The Ranger – Designed with active, outdoor lifestyles in mind, it provides certified noise reduction, rugged durability and an IP54 rating for water, sweat and dust resistance
For more information on ToughTested and the varied product line, visit http://toughtested.com/