Chenbro RM11602 Server Case


Introduction:
Our friends at Chenbro have sent us a 1U server case to review. The Chenbro RM11602 case is a rack dense Computing-Oriented Server Chassis. This case is designed for tool-less, easy installation and with outstanding thermal protection.
Utilized 5.25″ bay with Chenbro versatile storage kit

Outstanding Thermal Solution

Compatible backplanes available for cost saving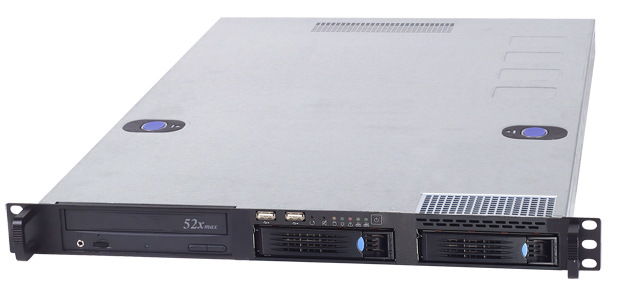 Specs:
Description
1U DP , 2 x H/S HDDs , SAS/SATA BP , Ideal for General Computing
Server
M/B Form Factor
EEB (12″X13″)
Processor
Intel / AMD UP Quad
Intel / AMD DP Quad
Support Backplane
SATA II/SAS
Security
Intrusion Switch
Front Bezel Option
Optional
Chassis Dimension
D x W x H (mm) 660 x 430 x 43.5 (mm)
D x W x H (inch) 26″ x 16.9″ x 1.7″
Drive Bay
Hot-Swap 3.5″ 2 (SAS/SATA)
External 5.25″ 1
Generality
Metal Material SGCC
Metal Thickness 1.2mm
Metal Material Type ABS-HB
Expansion Slots
FF 1
System Cooling
Middle 4x 4048 mm
1x 4028 mm
Rear Window
Standard
Front Panel – Front Control
Power On/Off
System Reset
Alarm Mute
Front Panel – Indicator
Power Status
HDD Activity (x1)
LAN Activity (x2)
FAN Failure
Overheat Warning
Front Panel – Ports
USB2.0 (x2)
Net Weight (Chassis Only)
7.4 kg
In the Box:
Backplane
(1) 2 ports SAS/SATA backplane
Card retainer
(1) Riser card retainer
Chassis
(1) 1U chassis base
Fan Bar
(1) Middle fan bar
Fans
(1) 40 x 40mm T28mm fan, 3P3C, 12500RPM
(4) 40 x 40mm T48mm fan, 3P5C, 11000RPM
Others
(2) 3.5″ Hotswap hard disk carriers
As you can see the RM11602 is loaded with standard features and includes several options for fan placement. Let's take a closer look at this case.
Construction and Design:
Click on any of the images for a closer view
The front of the case has clean and simple look to it.  Air intake is through and above the two hot swappable hard drives.  The hard
drive trays are sturdy and well made.  The front of the case has indicator lights and two USB ports, which is all you really need.  Rear of case has 3 USB ports, 2 PS/2 ports, serial, VGA and 2 Network ports.  Again, all you really need or want.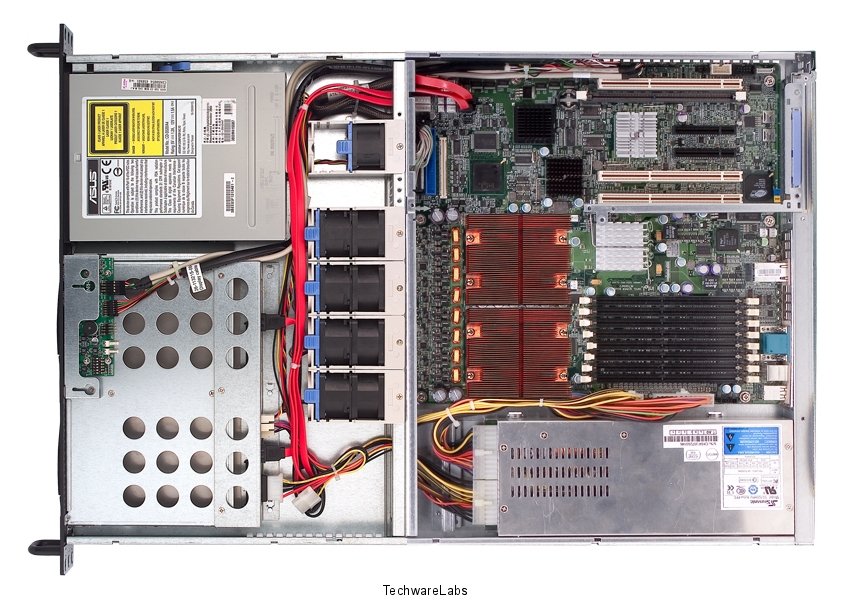 This is a well thought out case with just enough room for everything to fit.  Not cramped for space, it's just right for a 1U case.  The 11,000 RPM fans are a little noisy, but OK and well worth it as they move quite a bit of air.
You will want to order this chassis with the optional PSU, rail kit and riser card.. I chose the 26″ Slide Rails which were easy to install my Dell PE 2410 rack.  There are three riser cards available from Chenbro.   A 64-bit PCI-X riser card, x16 PCI-E riser card or a x8 PCI-E riser card.  For the PSU, you have a choice of 400W or 520W.
Conclusion:
The Chenbro RM11602 is a very well thought out and simple design for a 1U case. It will make a perfect web server case, which is what I'm using it for.  This is a case I would recommend to my clients and for all small, medium, and large businesses!