The monster storage machine:
One of the biggest assets that can be given to a network is additional storage, toward that end Chenbro has produced the RM41416B Rack mount case. The RM41416B Chenbro case will allow you to add a server to your network that can take advantage of the 16 drive storage bays it provides. With the potential for 16 drives to be utilized for backup and storage purposes you can potentially save thousands by utilizing the RM41416B as a SAN as well as a general purpose server.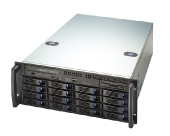 4U rack mount case.

In the following section I will show a closer look at the overall product, Although the case is rather large (4U ) its size is tempered by its usability, having access to 16 drive bays is  a huge boon to any small or medium sized business. Beyond being very useful to businesses this case will be a huge boon to people looking to set up a powerful backup solution for their network or are looking at setting up a large scale raid for a large LAN party of the type Techwarelabs hosts occasionally.