Introduction
In recent years, a number of PC hardware manufacturers have latched onto the eSports phenomenon.  Whether it comes from a desire to connect with the gamer crowd, or the simple economic imperative of "give the customer what he wants," many companies are embracing the hardcore PC gamer, and Cooler Master is no exception.  Under the CM Storm imprint, Cooler Master has been putting out a variety of products aimed specifically at the hardcore gamer, including mouse pads, case fans, and of course, cases.  Today will be looking at the entry-level slot in the Storm case lineup: the Scout.  This case is aimed not at the hardcore enthusiast, but at J. Random LAN Gamer.  This case was designed for looks, LAN party convenience, and affordability, in roughly that order.  Today we'll take a look at this case, and see if it meets those objectives.
Packaging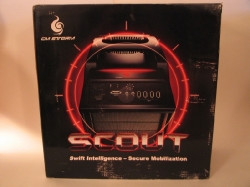 Here, Cooler Master decided to show off the two features you'll interact with most on this case: the top-mounted port array and the integral carry handle.  The red reticle surrounding the shot is clearly meant to evoke the view through a rifle scope, which fits with the military theme of the CM Storm line.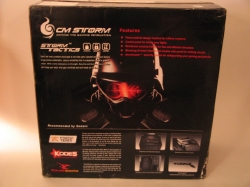 The back of the box further continues the military theme, with a faintly menacing fellow in black riot gear and red-tinted goggles in the center.  Below that, we see a few detail shots of the case itself, alongside testimonials from a few of the pro gamer teams Cooler Master sponsors.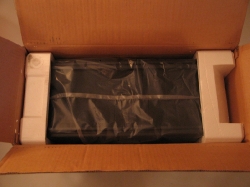 Packaging is a pretty standard affair, with a plastic dust-cover and hard styrofoam "bookends" to protect the case in-transit.  The box was slightly crushed in one corner during shipping, but the case itself was undamaged.