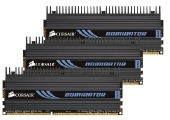 Introduction
With the introduction of the Core i7 processors came the idea of triple channel RAM. This development has enabled companies like Corsair to start producing RAM that is aimed more at performance than ever before. The Corsair Dominator CM3X2G1600C8D 6GB  kit is one of such RAM kits aimed at gamers and intensive computer users all around the world. Is this kit worthy of the Dominator name? Read on and find out…
Corsair's Take
The TR3X6G1600C8D is a 6144MByte kit of DDR3 SDRAM DIMMs based upon Corsair's high performance Dominator family of memory which includes Intel's Extreme Memory Profiles (XMP 1.2). This enables a robust, profile based high performance DDR3 over-clocking solution for Intel X58 platforms targeted for enthusiasts, gamers and overclockers who want to extract maximum performance from their platforms. Built using Corsair's Dual-path Heat Xchange (DHX) technology, this part delivers outstanding performance in the latest generation of X58 DDR3-based motherboards. This memory has been verified to operate at 1600MHz at latencies of 8-8-8-24 at 1.65V VDIMM.
Specifications
6144 Megabytes of DDR3 memory

Three matched 2GB modules

Tested together at 1600MHz, Vdimm = 1.65V
Latency settings of 8-8-8-24 on X58-based motherboards.
SPD programmed at: XMP 8-8-8-24 values at 1600MHz 
JEDEC standard 9-9-9-24 values at 1333MHz.