Blazing at the speed of orange.
The most commonly quoted solution to speeding up a computer is to add additional ram, unfortunately with most desktop boards you are limited to only 4 dimm slots so your options become adding increasingly expensive 4-8GB sticks of ram, or you can add a set of smaller but faster sticks of ram such as the new Crucial Ballistix 4GB kit weighing in at PC3 12800 (DDR3 1600)  this speedy little kit will take up two dimm slots with 2GB per slot this will allow you to add even more ram perhaps in the form of an additional kit .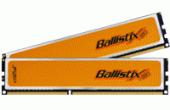 4GB Kit DDR3 1600 Ballistix ram
Crucial's take on the Ballistix line.
The Ballistix line is specifically built for performance enthusiasts who want to push the performance envelope without worrying about data loss or corruption, mysterious intermittent errors and display problems, or worse — the dreaded BSOD! The Ballistix line of high-performance memory modules features advanced speed grades, low latencies, and integrated aluminum heat spreaders
We will be testing the ram using standard benchmarking software. each test will be performed multiple times in order to insure accuracy of the test. In addition to performing multiple runs of the tests all tests will be carried out on
Windows 7
Core i5 750
Asus P7P55D motherboard
2TB Seagate barracuda SATA 3
Thermaltake XT 750 watt power supply
The following section will give you a good look at the product prior to your own purchase…
Packaging:
| | | | |
| --- | --- | --- | --- |
| | A quick view of the front of the package inside you can see the two ram sicks each one 2GB. | | Rear of the package contains basic information regarding the high performance of the Crucial Ballistix ram. |
The packaging is exactly what you would expect from a DDR3 Ram set found in a retail store. As for information on the packaging, other than the basic information such as the ram being 240 pin at 1.65V.

A closer look: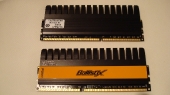 An closer view of the ram sticks.

By taking a closer look at the ram you can see a closer look at the orange styling on the right side of the ram. On the left side of each stick you have a small white sticker with what I believe is the part number.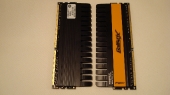 Another shot of the ram with its heat spreaders.
The finned heat spreaders will help to dissipate the heat built up buy running the ram in close quarters at a high speed.
| | |
| --- | --- |
| | An image of the ram in a system, as you can see the heat spreaders on the top of the ram allow for cool air to be drawn over the ram to dissipate the heat. |
Specs:
| | |
| --- | --- |
| Brand | Crucial |
| Series | Ballistix |
| Model | BL2KIT25664BN1608 |
| Capacity | DDR3 1600 (PC3 12800) |
| Cas Latency | 8 |
| Timing | 8-8-8-24 |
| Voltage | 1.65V |
| ECC | No |
| Buffered/Registered | Unbuffered |
Benchmark Testing and Analysis: