Introduction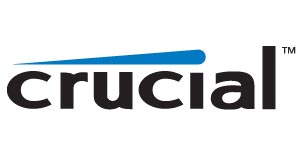 These days, RAM seems to come in two main flavors: cheap and unadorned, or fast and blinged out. It's rare to see a kit targeted at the middle ground—at those who want high performance without the thermal load and instabilities that come with overclocking. Crucial seems to be aiming at that much neglected niche with their latest offering, the Ballistix Tactical RAM kit, and today we're going to take it through its paces.
Packaging and A Closer Look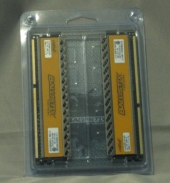 RAM doesn't usually get much in the way of fancy packaging, and that's especially true here. The modules are held in place in a plastic clamshell package, with a couple of friction-fit tabs in the corners that were squished flat on our review sample. As you might expect for a mid-range RAM kit, the Ballistix Tactical line isn't festooned with tall, ornate heat-spreaders. Heat spreaders are present, to be sure, but they're a fairly streamlined affair. Yellow seems to be the only color the side-stickers come in, so that's something to keep in mind if you're color-coordinating the interior of your system.
| | | | |
| --- | --- | --- | --- |
| | | | |
Behind the modules themselves, there is a card that provides a bit of promotional text for the back. When taken out and unfolded, it provides the minimal instructions needed for installing RAM; find the slot, line the tab in the middle up with the notch in the contacts, push down evenly on both sides until the latches click into place. Here they've almost completely evaded the need for instructional text by showing these steps entirely through diagrams.
Benchmarks
Test System
All benchmarks were performed on the following system:
| | |
| --- | --- |
| CPU | Intel Core i5-2300 (Sandy Bridge) @ 2.8GHz |
| Motherboard | ASRock Z77 Extreme 6 |
| RAM | Crucial Ballistix Tactical 2x4GB |
| System Drive | Crucial C300 SSD – 256GB, SATA III |
| Video Card | Sapphire Radeon HD 6970 |
| Operating System | Windows 7 Ultimate SP1 |
AIDA64
First up in our round of benchmarks is AIDA64, a suite of very focused performance benchmarks.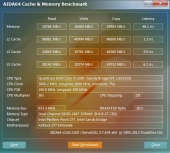 Here, you can see that the RAM is achieving its advertised speed of 1800 MT/sec and timings of 9-9-9-27. This required only going into the BIOS and selecting XMP Profile 2, no lengthy bump-and-test procedure as you'd have to do with a manual overclock.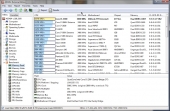 First up is the Memory Read benchmark, where the Ballistix Tactical kit managed to post an impressive 18,756 MB/sec, edging out its nearest competitors to take the top slot.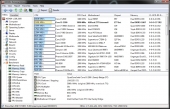 Next is the Memory Write benchmark, where it didn't manage to do quite as well; it came in the #2 slot with a speed of 15,741 MB/sec.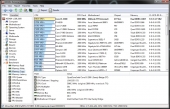 Next up is Memory Copy, where the Ballistix Tactical kit rocketed to first place with a blistering 19,116 MB/sec.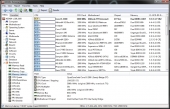 Last for this suite is Memory Latency, where it posted a very respectable 46.8ns, again edging out the reference systems.