AllTerrain Wireless Travel Mouse
First up is the AllTerrain wireless travel mouse. Shaped and sized much like other travel mice, the main selling point of this one is in the sensor. Set at 1600DPI, this sensor will track on all sorts of surfaces, including glass, wood, and clothing.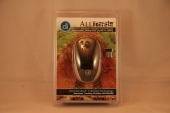 The packaging does a decent job of showing off the mouse and pointing up the main feature. That said, I'm not a big fan of blister packaging; it's needlessly difficult to get into and is impossible to repack neatly, but does a great job in preventing shoplifters from pocketing small items.
The mouse itself is tiny, measuring just over 3.5 inches at its longest point. There are no back/forward buttons, but with a mouse this small that's just as well. The battery compartment, which takes a single AAA cell, also provides a space for the receiver while the mouse is not in use. Activation is handled via an ever-so-slightly recessed power switch, which can be flipped with a fingernail.
Pinched between thumb and ring finger, this mouse is surprisingly comfortable to use. The buttons provide good audible and tactile feedback, and the scroll wheel is notchy without being stiff. The sensitivity is fairly high for a non-gaming mouse, being locked in at 1600 DPI. Using it for ordinary web-surfing tasks, it took me some practice to avoid overshooting my targets. The AllTerrain mouse lives up to its name however, tracking smoothly and accurately on every surface I tried it on. A gaming mouse pad provided the best results, naturally, but it tracked just as well on bare desk, my pants leg, my sleeping cat, and the glass bottle sitting on my desk.
Overall, the AllTerrain Wireless Travel Mouse provides solid value for the money. The lack of browser back/forward buttons is a shame, but the superb tracking ability more than makes up for that minor lack.