Staying Cool:
Water cooling computers started with mainframes back before what we know today as the home PC. When home users started to water cool their PCs, there weren't anything in the stores sold as a package deal, so items such as car's heater coil, fish tank pumps and silicone tubing were used. When put together, these homemade cooling systems were very pretty large and would be the PC was something that could be moved without disassembling the cooling system at the risk of spilling the coolant/water on the computer. Present day, the market has a wide range of choices to pick from to keep your CPU from overheating. These choices range from purchasing each item from different manufactures which  are put together to cool the CPU, RAM, North Bridge, hard drives, even power supplies. Putting the parts together, flushing the system, and then running the system for months/years at the risk of something leaking or the coolant running too low is always at the back of your mind. Then when it comes to transporting the PC from your house to another you increase the risk of something coming undone.  The other option on the market today is a self contained, preassembled kits, one of these kits is from CoolIT Systems called "Domino A.L.C." TechwareLabs was first introduced to the Domino while attending CES 2009. Let's see what the Domino has to offer.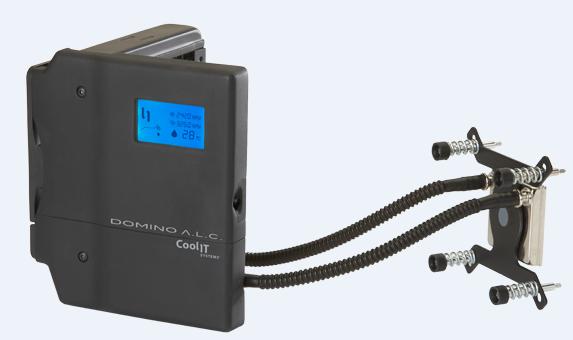 CoolIT take:
Domino A.L.C. offers the technological advantages of liquid cooling by efficiently transporting damaging heat away from the CPU as well as reducing overall chassis temperature levels. The system provides incredible thermal headroom, keeping pace with advances in processor technology and thus supporting the ability to maximize the performance of high performance PCs.Users have the option to switch between three operation modes with the simple push of a button satisfying the need for quiet or the desire for over clocking performance. Domino A.L.C. is the only cooling solution with an integrated display providing system status as well as audible alerts if attention is required. The advanced micro-controller auto-regulates performance to ensure continuous protection for maintaining CPU reliability.

The compact Domino A.L.C. is factory sealed ready to be quickly and easily installed into the most crowded chassis. Mounting hardware for Intel 775/1366 and AMD AM2+ processors is included along with a specially engineered retention mechanism which ensures an optimum interface with the CPU and limits the weight on the motherboard to well below the maximum specified by CPU manufacturers.
Specification:
Operation Modes (Fan Speeds)
Quiet: 1100-2500 RPM

Performance*: 1100-2500 RPM

Full: 2900 RPM

*System automatically increases cooling

performance at an increased rate compared to Quiet Mode.

Physical Specifications
Dimensions: 14.0 x 12.5 x 15.5 mm

Weight: 1.03 kg

Operating Voltage: 11.6-12.4V

Power Consumption: 8W (Max)

Life Cycle: 50,000 Hours (MTBF)

Fan
Long life, low noise

Dimension: 120 x 120 x 25 mm

Noise: 19.2 dBA (Min)

Pump
CFF1 long life ceramic bearing

Noise: <21 dBA

Radiator
Custom engineered for low noise heat dissipation

Dimension: 157 x 120 x 27 mm

CPU FHE (Fluid Heat Exchanger)
Copper Micro-Channel

Surface Dimension: 50 x 50 mm

Coolant
Proprietary with anticorrosion/antifungal additives
CPU Thermal Grease
Proprietary Pro Advanced Thermal Compound
Warranty:
2 Year Manufacturer