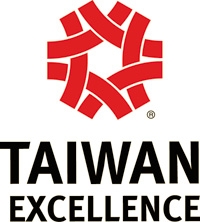 Edimax Enters Internet of Things – Taitra
Edimax has been known for its networking abilities, from producing home routers to diversifying a corporate headquarters with the full network topology with industrial level routers and hubs. But as we come closer to the future of Edimax we begin to see their vision on how wide they want their hardware to span. Wide enough to potentially cover a full cityscape, and then theory met development. With a few models right now being tested in the city, these wireless devices are capable of spanning out a wireless signal across a large field. Think in the lines any radio frequency method that expands a city like AM and FM,but i speculate a certain frequency range that has both data and integrity dependability.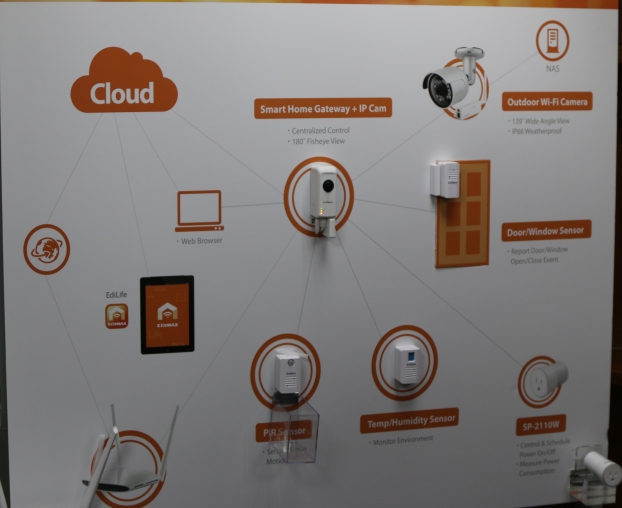 On a smaller scale Edmiax is also harboring their line of cloud connected home devices that range from motion sensors to camera systems. As the market grows into a smart home systems, possibly because of the like-named movie "Smart House", markets are beginning to be flooded with simple solutions to smart homes. While most smart home systems must be set up with wiring inside the walls during construction of the home, otherwise modifying a none-wired house can be a headache, these devices work on wireless technology that do not require an topological wiring system inside the walls. This provides a simple consumer based solution to an advanced systematical assembly of a full fledged smart home. Many other companies also include home media control such as speaker systems, media servers that house all content synchroniously inside the household, garage openers, telecom systems and countless other attachments that provide a very similar experience to fictional movies that depict intelligent home systems. Minus of course the artificial intelligence. With the entry into the smart home field in an already established market Edimax hopes to become unique in its efforts by centralizing the systems using the Edimax Cloud so devices are easier to access to consumer level buyers and to manage over remote locations. While Edimax is focusing on its EdiLife line of home products, this isn't the only project under their belts.
Edimax has been known to work industrial grade networking systems and consumer level wireless tech.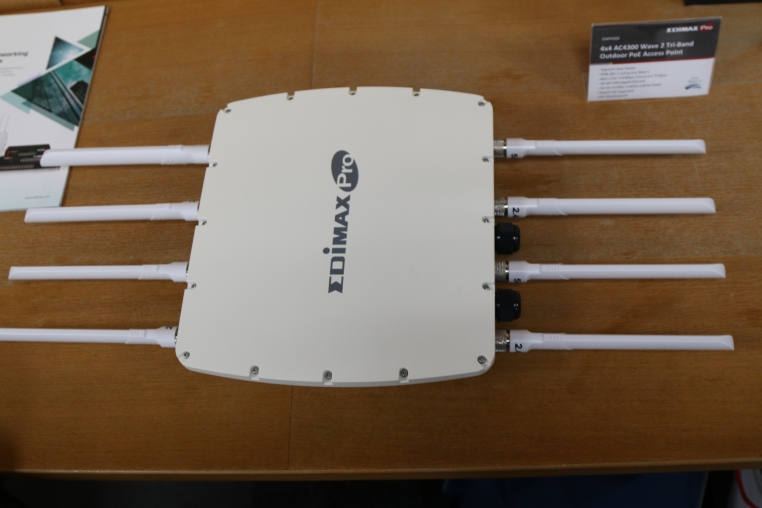 From usb adapters to full out environmentally durable outdoor routers, Edimax has crafted networking solutions for just about any situation and thus has a strong backbone when it comes to their trade. All in the process of their entry into the Internet of Things cloud movement, expect to see many features to become synchronized in the future.
The AC4300 shown to the left is a huge focus for Edimax with the highest SMB AP in the market and its Tri-radio band provides housing of 3X the regular set of users on the network, with such power this device is perfect for outside connectivity hotspot for work or play.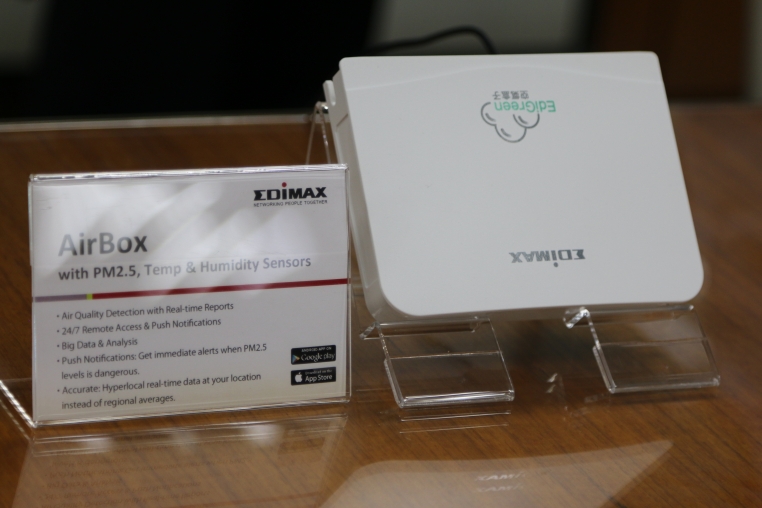 In a study based project, Edimax has released the EdiGreen revolution in order to support green based solutions to their ever-changing environment. As we know manufacturing areas in the eastern hemisphere have side effects of geographical instability and pollution of smog in many locales in China for instance, cause a health hazard to the local population. While Taiwan increases it's home manufacuring and neighboring an already polluted locale, Edimax presented the beginning to a solution.
The AirBox analyzer has the ability to gather data based on the air in its immediate surrounding, capable of identifying humidity ranges, temperature, and pollution based ratings in its geographical location. Partnering up with the Taiwan government their goal is to gather enough data on the flow of pollution and hot spots that can be futuristically identified and remedied with specialized methods. Currently their progress shows the device itself is already distributed in countless public domains such as schools, business buildings, parks, and other establishments. Their software tool to analyze the data is presented in an app the can communicate with all of these devices and their geographical location on a map and present a colored dot representing different levels of PM (Particular Matter) based on landscape area. Their interest in this solution has been edged on by a rise in a PM2.5 (harmful matter existing within 2.5 micrometers in area. The ISO has identified 2.5 as the target level for deadly effects on biological beings, capable of causing death without sign. The EdiGreen AirBox aims at identifying and maintaining an eye on these levels and when solutions become more clear targetting these highly toxic locales to be remedied.
As Edimax and Taitra grow into the global market we expect that their exposure will begin to rival those of the west market wireless manufacturers like Netgear and Linksys. While many products between popular western companies and Edimax show a higher feature set in the Edimax devices, the market speaks based on popular opinion and thus Edimax falls behind on many ratings on their many comparison articles online, which does not at all mean that the device itself is more capable, just more widely used by the western consumer. As the potential for feature full devices become a reality in the western market we hope Taitra and Edimax gain the exposure they deserve.