When Does Your Data Become Important?
I want you to imagine for a moment that your laptop or desktop has just crashed. Every personal document, every e-mail, every file and photo is gone. All of the data on the hard drive is gone. . . What do you do? Attempt to recover the data by yourself? Use an expensive data recovery service? Try to recover what you can from older copies on thumbdrives or on CD or DVD that may be months old or older? Keep in mind that much of who we are in these modern times exists in a digital format. So I ask the question "When does your data become important?"
You have heard me talk about data security, backup solutions, and storage solutions before but once again can you apply these concepts to your situation and need? The answer is "everyone should". The fact is that your hard drive will eventually die, and most of the time it goes without giving you a warning. Most home users and many businesses don't receive the benefit of a doctor saying "the time is near". Now it's important to make the distinction between home users and business users here. While losing your data will hurt regardless of if it is a home use desktop or a business server it has the potential to impact businesses much more. In fact, if you own a small business and have been disregarding backup and data security then your entire business is a ticking time bomb.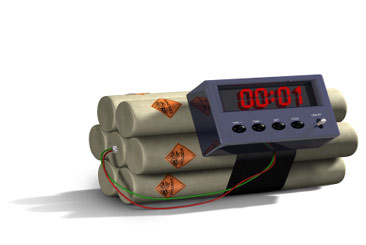 As a business owner you should consider a serious backup and storage solution, but also one you can manage and afford without breaking the bank. Lets add to that the need for scalability in case your business grows or your data storage needs grow. The storage also needs to be fast, because face it no one wants to wait while they try to access documents. The timeglass of doom I like to call it. Enter the Enhance Technology E4 and E8 series.
The Need For Storage:
As we have stated over the past several years the need for increasingly larger amounts of storage will not end. In fact people are amassing and storing more of data than ever before. This of course brings up the question "Where do we store all of this data?" and the answer as Enhance Technology would have you believe is the EnhanceBox E4 and E8 Series. The E4 and E8 series storage boxes are essentially containers for either 4 or 8 hard drives respectively. The drives placed in this container can be configured a number of ways depending on the raid card that is used in the connected server or desktop system.
Overview:

The E4 has optional outputs for eSATA, Mini SAS, Multi-lane, and Port Multiplier depending upon your needs. While for most desktop and pro-consumer needs eSATA should be more than enough to enhance storage capabilities the real target of the E4 and E8 is the medium and large businesses and institutions. For those facilities the Mini SAS, Multi-lane, and Port Multiplier options add greatly to the flexibility of this product.
eSATA: By definition eSATA is a SATA drive connected to a PC externally via a SATA cable. This technology though is different than standard SATA in that it is hot swappable, meaning it can be unplugged and plugged in while ths system is still on. eSATA operates at the maximum speed currently supported by SATA devices or 3Gbit/s. eSATA is ideal for facilities in need of quickly adding in more storage and the ability to remove drives often.
Mini-SAS: In computing, the data-transfer technology Serial Attached SCSI (SAS) moves data to and from computer storage devices such as hard drives and tape drives. It depends on a point-to-point serial protocol that replaces the parallel SCSI bus technology that first appeared in the mid 1980s in corporate data centers, and uses the standard SCSI command set. As of 2009 it operates slightly slower than the final parallel SCSI implementation, but in 2009 it will double its present speed to 6 Gbit/s, allowing for much higher speed data transfers than previously available. SAS offers "downwards"-compatibility with second-generation SATA drives. SATA 3.0 Gbit/s drives may be connected to SAS backplanes, but SAS drives may not be connected to SATA backplanes.
Multi-lane: Similar in concept to a SATA port multiplier is a SAS expander which enables one or more ports to be able to fan-out to multiple ports for device attachment. SAS supports attachment of both SAS and SATA devices including support for multiple lanes over a single port including SATA Tunneling Protocol (STP). Learn more about SAS at the SCSI trade organization site www.scsita.org and SATA at the SATA I/O organization www.sata-io.org.
Port Multiplier: A SATA port multiplier is a device or chip that allows a single SATA port to communicate with multiple drives and simplify cabling. SATA port multipliers typically are incorporated into a storage enclosures backplane for example to enable a single SATA port to be able to access up to 15 disk drives on a storage enclosure drive shelve.