Introducing the LabelWorks LW-400:
If you have ever worked in an office or professional environment of any kind, then the likelihood is that you have used a label maker. These small devices help keep things organized and easy to find. They are essentially small printers designed to put text on a sticky tape meant for folders, but they can do much more as the Epson LW-400 will show us.
Beyond putting labels on folders the Epson LabelWorks fits a number of roles with its wide range of various tapes. Epson has created Iron On tapes, Fluorescent, metallic, and even Strong Adhesive tapes for those hard to label uses.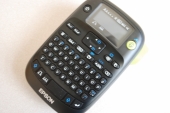 Key Features:
Ideal for your labeling needs — prints labels up to ~¾" (18 mm) wide
Backlit display — type and print labels in low lighting conditions
Amazing variety — 14 fonts, 10 styles, 300+ built-in symbols, over 75 frames, bar codes and more
Less waste — smaller lead margin compared to other brands, for up to 60% less lead margin waste
Large built-in memory — store up to 50 self-created label designs
Prints up to four lines of text — more space for you to add specialty frames or symbols to enhance your design
Specialty print modes — a variety of flag, tab and wrap style labels — ideal for cables, wiring and more
Easy to apply — automatically printed with a split back for easy and fast peeling
Asset tagging — easily print barcodes for products and merchandise
Whisper quiet — prints labels without distracting those around you
Supports seven languages — set to the language of your choice
Specialty labels — double-sided tab tapes, glow-in-the-dark, reflective, metallic, strong adhesive, fluorescent and decorative tapes for everyday use in the home or office
Easy-to-use safety symbols and frames — perfect for labeling hazardous materials; use the glow-in-the-dark tape to help light the way in the dark