Looking for a carrying case for your netbook or notebook? Take a close look at what Everki has to offer with their Camber 7" – 13" case. Sure, there are endless companies on the market today to choose from, but not too many have carrying bags for netbooks and even fewer create theirs with style. The Camber from Everki is one that really stood out among others while attending CES 2010. Let's take a closer look at the Camber to see why were excited to bring it to your attention.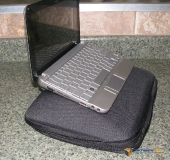 The design behind the Camber is the unique angle which will hold your netbook.
The Camber is shaped like a wedge to give you an elevated surface to place your netbook on for better comfort while typing. Also this gives you a place to put your netbook bag rather than hanging off the back of your chair or on the floor where it could be stepped on or stolen.
| | |
| --- | --- |
| | |
| Simple to the point packaging. | The back of the package lists EVERKI's Lifetime Warranty and a few sketches of the features of the Camber. |
Take a look at how Everki describes their case: