Introduction:
The Evo-G mousepads presented here for your edification are their MP-2 and MP-3, in orange and green repsectively. These are sold as gaming mousepads, with an optimized surface texture, and nonslip backing. They come packed in two-and-a-half inch-square, eleven inch tall plastic boxes, (ours were squished a little by the mail carrier) rolled up cloth-side out. They're made of the standard neoprene wetsuit material used these days on mainstream mousepads, but fhuge. Whereas my courtesy mousepad weighs in at 210mm wide by 185mm tall by 1mm thick. Most mousepads are around 6mm thick, but this arrived rolled up in a newspaper. On the other hand, the Evo-G pads are 355mm by 265mm by 4mm. As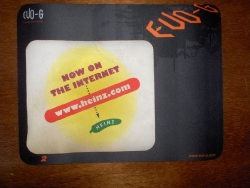 we mentioned in my previous article, these pads are huge, providing ample elbow room. They also provide a reasonably good, low(ish)-frictiontion, surface that most people will be used to using, and adapt to quickly.
Whether this is a good thing or a bad thing is a matter of preference: Pads like the Razer Goliathus hae less friction, but could be considered by some to be too low, or the odd, pebbly texture considered distracting – but this is not 'Choosing a Mousepad' and that question is beyond the scope of our discussion here. A lot of people use and enjoy neoprene mousepads, and if they see no reason to change their style, then the MP- series by Evo-G present a reasonably compelling upgrade.