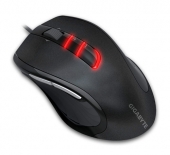 Introduction
In the world of computer-based gamers, having a sweet rig is only half the battle.  You're only as good as your Mouse/Keyboard/Monitor.  Now, we all know of some other brands that really make buying a mouse a decision between the mouse or gas for the month.  Gigabyte has come up with a solution: A comfortable mouse that doesn't break the bank.  On top of that, it has some of the features of a gaming mouse: On-the-Fly adjustable DPI, 5 programmable buttons, and 4-way tilt.  All this for ~$22.00?  Lets take a closer look at the Gigabyte GM-M6900.
5 Programmable (2 on left Thumb, Left click, Right click, Wheel Click)
4 way scroll tilt wheel
3200 Max DPI
3600 Max Fps
30g Max Acceleration
65 inches/second Max speed
Offset Optical Tracking
1.8m USB Cable
Red LED's illuminating DPI buttons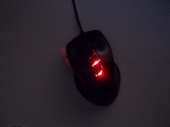 While the Max DPI or number of programmable buttons isn't the most we've seen, remember this is a ~$20.00 mouse.  Not too shabby, Gigabyte.  For a lot of gamers, what makes or breaks the mouse is how comfortable it is to hold or use.  This mouse is quite larger than most other mice I've used which set me off .  At first.  But as I got used to the mouse, I found I loved the oversized aspect.  Instead of feeling like I'm holding and pushing the mouse, I feel more like I'm resting my hand on the mouse.  From this, I found a lot less strain on my thumb and outer fingers.  A major plus for hardcore-clickers.