Introduction:
Say Hello To my Little Friend! Gigabyte has released the first Mini ITX USB 3.0 Motherboard. For those of you that don't know the mini-ITX is tiny 17cm x 17cm.  A standard power supply is 14cm. x 15cm.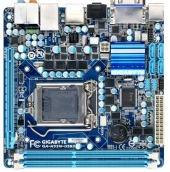 "The GIGABYTE GA-H55N-USB3 was designed specifically for users wanting to build the ultimate home entertainment PC; small and sleek enough to seamlessly fit into the living room as part of the home, yet powerful enough to easily transfer, store and view today's many types of digital media content, whatever the format," commented Tim Handley, Deputy Director of Motherboard Marketing at GIGABYTE Technology Co. Ltd. "Not only does the GA-H55N-USB3 offer one of the industry's most exciting integrated graphics solutions with flawless HD video playback, it also allows users to spend less time waiting for their content to transfer, and more time to actually enjoy it due to its USB 3.0 GIGABYTE 3x USB Power Boost features."
Gigabyte is boasting a full featured motherboard in roughly half the size.  I find it hard to believe that they included that much in a board this small. Let's take a look.