Introduction:
Words like DVR and Tivo are becoming commonplace in mainstream society. But what do you do if you want all of the benefits of a DVR without the extra cost of having to pay the cable company for the service? What if you want a single box that can record TV, playback movies, playback music and stream all of that over a network? What if you just want that extra level of customization? The answer… you build yourself a HTPC (Home Theater PC). However, normal computer cases look funny sitting next to a TV or they simply don't fit right. What if there was something that blended in with your existing multimedia/audio setup? This is where GlacialTech steps in and presents the Altair A381. We were presented with the iMON edition, which contains the same infra red receiver unit as the Thermaltake DH-101that we reviewed a while back. Home Theater PC cases fall into a niche market for cases and consumers alike. They are usually compact and almost always only support low form factor cards. They're not designed to be high end gaming machines but rather are built for the sole purpose of delivering multimedia to you, your family, and friends. So does the Altair A381 have what it takes to satisfy our multimedia needs, and yours as well? Read on to find out.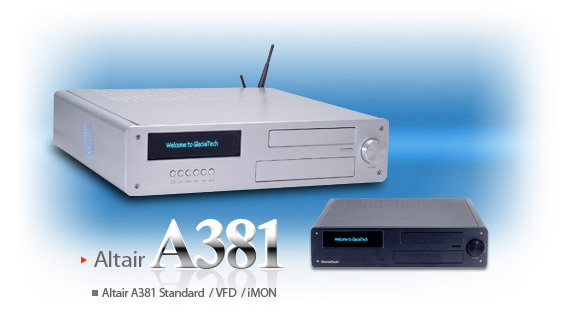 Features:
270W quiet Flex-Power supply
EMI clip of top cover for grounding.
2 blue LED case fans to low down internal chassis temperature with good airflow design.
IR receiver, card reader, USB port, SPK, MIC, and power switch board inside.
High quality sponge rubber to protect HDD shock.
Volume control and power switch all in one.
Aluminum DVD plate
High quality Aluminum Media access door.
Pure Aluminum front panel with gold mark
iMON VFD (vacuum flourescent diode) and quick button function (7 pcs), displaying text and quick media button support iMON software.