Introduction
GlacialTech has products in a few different areas of PC hardware, but one of their primary markets is in coolers. The F101 is supposedly inspired by the General Electric turbofan jet engine of the same name. Personally, I don't think this was the wisest of marketing decisions. After all, when I think of a jet engine, I think of an ear-shatteringly loud device that shoots a column of flame out of it's backside—not qualities I want to see in a CPU cooler. Luckily, nobody in marketing seems to be talking to the engineers, as the F101 is almost, but not quite, entirely unlike a jet engine.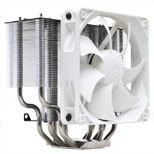 Glacialtech's Take
F101 Concept
The General Electric F101 is an after burning turbo fan jet engine. It powers the B-1 Lancer strategic bomber fleet of the USAF. In ful afterburner it produces a thrust of 30,000 lb. The F101 was GE's first turbo fan with an afterburner.
The B-1's four F101 engines helped the aircraft to win 61 world records for speed, payload and range. This range is transnational without aerial refuel.
Aside from this quote on the side of the box, I could find no other promotional materials whatever for this cooler. Clearly, Glacialtech prefers to let the specs speak for themselves.
Judging by the performance and our reviews