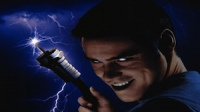 Four influential members of Congress, fed up with the Google/Verizon "industry-centered net neutrality policy framework," are now demanding that the government act in the public interest to enforce real network neutrality.
More specifically, they want the FCC to act. Even though passing legislation through Congress would be cleaner and less legally fraught than implementing new rules at the FCC, current political realities make that impossible. It's up to the FCC to git-er-done.
The new letter (PDF) comes from four members of the House Energy and Commerce committee, Ed Markey (D-MA), Mike Doyle (D-PA), Jay Inslee (D-WA), and Anna Eshoo (D-CA). None of them makes even a token positive reference to the Google/Verizon proposal, which would provide a few limited neutrality protections to wireline Internet service while creating huge exceptions (and leaving wireless service free to discriminate completely).
Read more here…