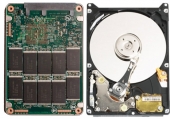 Introduction
SSDs  are gaining wider and wider acceptance in the consumer market. By offering faster speeds than the traditional hard drives and lower $/GB as time passes it is easy to see what the fuss is all about. This probably makes you think then that the traditional hard drives have no place in the market anymore, that they are relics of the old generation and should be shelved along with B-Track tapes, black and white televisions, and floppy drives. In a way you are right, SSDs do offer performance increases over traditional hard drives, but it does not mean that the good 'ol drives do not have any fight left in them. Western Digital, the maker of world's fastest consumer drive continually redefines what it means to have a performance hard disk drive. It's most recent update to its already successful model is the 600 GB Velociraptor. Coming into the market in the $200 ~ 250 range, alone it does not stand the chance against the SSDs. But what if your RAID them? Would it make better financial sense to get 2 Raptors than the SSD? I decided to find out…
Hypothesis
After testing out the single Velociraptor in my rig, I came up with an interesting conjecture: I believed that 2 Velociraptors in RAID would be able to outperform an SSD. To test this theory I enlisted the help of a fellow TechwareLabs reviewer Chris who graciously compared his Corsair 256 GB SSD for use in this review.
The Setup:
So lets do this scientifically. Things you will need for this setup:
2 x 600 GB Velociraptors
A motherboard that supports RAID 0 (most new motherboards do)
Processor and memory with enough juice to be able to run Windows Aero (Any less and you will limit the performance on the processor side).
Ingredients:
Processor: Intel Core i7 920 @ 2.66 GHz
Motherboard: ASUS P6T Deluxe (Using the on-board RAID Controller)
PSU: Kingwin MACH 1 – 700 W
Case: Lian Li PC-A77
Graphics Card: ATI Radeon 4870 by Palit