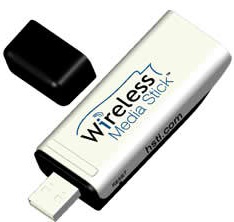 HSTi today introduces the StreamStick™, a universal Video-on-Demand (VOD) media streaming adapter so versatile that it allows content providers to offer VOD services to a wide variety of media players, game consoles and set top boxes, without the need to develop and integrate custom software on the player itself.
Based on the proven patented technology of HSTi's Wireless Media Stick™, the StreamStick™ is a robust cloud computing, content delivery device, and a unique Video-on-Demand (VOD) solution, which allows the consumer to instantly watch movies or TV programs streamed to their preferred playback device, from the provider's content storage infrastructure. The StreamStick™ works with virtually any media player with a USB playback port. Content providers can now eliminate time consuming negotiations with multiple manufacturers, and can reduce labour costs by not having to test every brand and model of media player while offering their VOD content on the most popular media players, game consoles and set top boxes exponentially increasing their market base.
VOD customers would access their account on a web portal and select/purchase movies from a content library. Their movie choices are then available on their registered StreamStick™ which then gets plugged into the USB playback port of a TV, DVD, Blu-ray™, game console, DVB-T, set top box, or any other media player, and presents the video selection as a file. The user navigates through the media player's file manager menu with their player's remote control and chooses to play the selected movie file. The file is then streamed directly from the content provider's infrastructure to their customer's media player.
"We can customize a VOD product specific to the content provider's infrastructure," said Ramesh Uppal, HSTi's President and CEO. "The StreamStick enables content providers, of any size, to access a multitude of media players, exponentially increasing their customer reach while realizing new revenue streams that they wouldn't otherwise have."
HSTi's success marketing their Wireless Media Stick™ as a consumer product, naturally led to the development of business applications like Video on Demand. They are presenting this business solution at the International Consumer Electronics Show (CES), in Las Vegas, January 6-9, in booth #35879 South 4 Upper level.
About HSTi:
HSTi is a Canadian technology company that develops and markets products intended to transform how people use and enjoy their media files. Our patented streaming technology (Patent Pending and World P.C.T) is the foundation for all our products that help consumers and businesses enhance their wireless entertainment experience.
A seasoned management team takes an entrepreneurial approach to all aspects of the business and invests heavily in research and development to create exciting new products. With in-house technical expertise, HSTi can be flexible and creative to customize applications for specific customer requirements.
HSTi is both innovative and forward thinking, achieving a lot in a very short time. Since launching a prototype of our signature product, the Wireless Media Stick™, at the 2010 Consumer Electronics Show, HSTi has forged strong business partnerships and developed an exciting product roadmap to differentiate our company and capture niche markets.
Headquartered in Calgary, Canada, manufacturing in Korea, and shipping out of Korea and the United States, HSTi boasts a global distribution network through web sales, distributor outlets and OEM customers. With distribution partners and customers around the world, our continually expanding presence can be found in places like: Korea, China, the European Union, Israel, Australia, Colombia, Canada and the United States, with new opportunities arising weekly.
HSTi has evolved from being a start up company with an idea to become a dynamic organization creating and marketing consumer and business streaming solutions.