Introduction:
The selection of computer cases presently has grown to cover almost every conceivable design, concept and specification any one engineer can put a pencil to paper and draw up. In early March of 2009 I had some family in town while on their vacation (living in Orlando, FL, I get that a lot). During this visit my brother was interested in having me build up a PC for my niece. Looking through the computer cases TechwareLabs had in stock, none of them seem to fit the profile of a young girl of 5 years. Most of the cases were very large and looked like Aliens or had some other outrages design that just didn't fit who I was building it for. Of course my brother said anything would do as long as the final cost of the build wasn't too much. I just happened to come across a case that IN WIN had sent TechwareLabs and at first glance it fit the bill. The IN WIN ALLURE is a case that should appeal to most girls out there with its white exterior decorated with a few purple flowers and sparkling crystal like jewels. Let's take a closer look.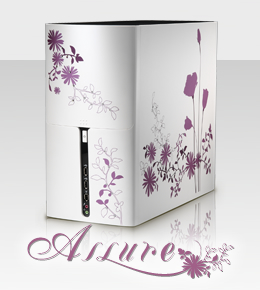 Features:
Patented Front Panel Design:
Flaring up with a simple push, the front panel slides effortlessly towards the top of the chassis giving users an innovative way to hide drives and ports.
Aero Dynamic Design:
Unique ergonomic design, streamlined and eye catching, the Allure leaves no detail left unattended.
First Ever Oval Shaped Design:
The 360-degree oval shape of this chassis gives it a contemporary look.
Tool-Free Mechanical Design:
The Allure interior is fitted with a tool-free mechanical design to help make assembly fun and simple.
Ergonomics:
The rounded edge structure paired with the swerving HDD cage make the Allure a chassis that fits beautifully in with the rest of your life.