A closer look:
Specs
Case Size

Full tower chassis

Material

1.0 – .08mm SECC Steel
Dimensions HxWxD

556 x 239 x 578mm ( 21.9″ x 9.4″ x 22.8″)

Power supply
ATX 12v
PS II size and EPS

I?O Expansion slots

PCI-E/PCI/AGP SlotX8
Thermal Solutions


1. Rear 12cm Fan x 1

2. Front:12cm Fan x 1

3. Top:12cm Fan x 1 (Maximum Supports 12cm Fan x 2)

4. Side:22cm LED Fan with switch x 1 (Maximum Supports 12cm Fan x 6)

5. Water-Cooling Hole Ready

6. 12cm LED Side Fan

M/B Form factor


1. E-ATX(12″X13″)

2. ATX

3. Micro-ATX

Drive bays


1. External 5.25" x 5

2. Includes FDD Cage x1(5.25" converted into 3.5")

3. Internal 3.5"x6

4. 2.5" x 1

Front I/O(Ports):

1. e-SATA×2

2. IEEE 1394A×1(FireWire)

3. USB 2.0 x 2

4. HD/AC'97 Audio

5. USB 3.0 x 2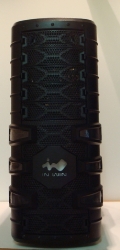 Front facing

With most case placement you primarily see the front of the case so its important that it looks presentable at least. Fortunately the Dragon Rider has a fairly attractive front bezel even offering some light LED aesthetics when the case is fully powered in the form of the IN WIN logo lighting up, fortunately the logo is not super bright but merely a highlight that was done in tasteful method. Other than the tasteful lighting the front bezel has five easily removed front plates that accommodate all sorts of 5.25 inch drives.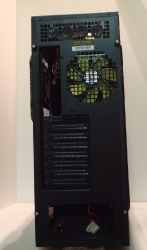 Rear panel of the case.
In the rear is where all the action is, you have a non lit colored fan that is meant to be the exhaust for your CPU. The I/O panel goes where you would expect it for a case of this type. other than that you have bottom mounted power supply which I personally despise in a case because you always seem to draw more dust into the power supply which can cause significant issues down the road. One of the features I like about this case is actually the filtering on the power supply air intake, this is something you don't see enough of in the market especially with the prevalence of bottom mounted power supplies. The other nice feature about this case is the tool less shock absorbing PCI brackets, these brackets are awesome for holding a graphics card or other heavy PCI card very firmly and quietly.
| | |
| --- | --- |
| | Left side of the case and the one you will be removing most often to change components. The fan on this door is my biggest complaint with this case as it doesn't fit with large CPU coolers. I ended up moving it an remounting it lower using only a few of the screws that would fit. Normal mounting of this fan uses 4 screws to keep the fan stable and quiet unfortunately with my Gigabyte cooler  ( 160 mm tall ) I could not use the stock location and had to remount it lower. There looks to be other mounting locations on the door but in practice they only modify the position of the fan by about and inch which isn't enough to accommodate a large cooler. |
| | |
| --- | --- |
| Right side panel (behind motherboard) this panel is usually only removed for cable management. The case actually has a 1/4 inch space that is designed for better cable management in practice it still requires careful lay out of your cables or the this panel has issues going back on. I would have liked a little more room back there to properly hide all my cables. | |