Integrates with Sonos
Control Sonos Speakers from the Insteon Hub app,
wall keypads, wireless remotes and sensors
CES – Las Vegas – January 6, 2016 – Insteon®, creators of the world's premier home automation and control technology, today announced integration with Sonos. Audiophiles can now include their Sonos speakers as part of Insteon's connected home system, providing customizable control from Insteon wall keypads, handheld remotes and sensors. Insteon will be highlighting the Sonos integration and its comprehensive line of connected home solutions during CES® in booth 70723, located in the upper level of Tech West, Sands Expo.
Through this integration, music can now play a part in custom Insteon lighting scenes so that while the lights slowly fade on in the morning, gentle music resonates throughout the home and the coffee starts brewing. Alternatively, at dusk, the lights could fade on while users arrive home to their favorite dinner prep playlist.
For on-the-fly sound adjustments, users are liberated from having to pull out their smartphones. By assigning functions like volume up/down or station change to Insteon wall keypads, Sonos owners can easily control their speakers as they walk in and out of rooms or when they simply do not want the hassle of dealing with an app. It's easy for homeowners to replace normal wall switches with Insteon keypads that can be used to control the existing light, while adding additional buttons for control of Sonos speakers or other lights and appliances throughout the home. Users can also pick up an Insteon wireless remote from the coffee table and instantly enjoy control at their fingertips. Insteon will be offering pre-printed keypad buttons specifically for Sonos related functions, which will make basic sound control even easier for anyone to use and understand.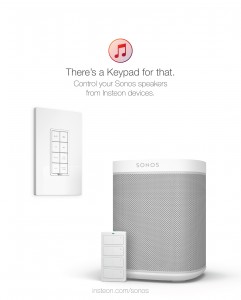 "Integration with Sonos will be a very compelling feature for new and existing Insteon customers who want to incorporate beautiful, crisp musical control into their home, creating a comprehensive home automation experience," said Joe Dada, CEO of Insteon. "Offering Sonos control from our keypads and remotes removes one of biggest barriers to the enjoyment of smart audio systems and offers homeowners a seamless integration of lights, music and more. In that sense, this announcement is yet another example of Insteon achieving its overall goal of bringing all connected devices into elegant command."
Sonos integration for iOS will be available this week in the App Store. Compatibility for Android will come soon thereafter. For more information, please visit www.insteon.com/sonos.
Insteon Showcases Comprehensive Home Automation Capabilities at CES 2016
Streamlines the Connected Home Through Recent Integrations with Apple HomeKit, Amazon Echo, Google Nest, Logitech Harmony and Sonos
Corporate Fact Sheet
Business
Transforming the "connected home" from a buzzword into reality
Differentiator
Dual-mesh RF/Powerline network: the longest range and most fail-safe connected home protocol on the market
Headquarters
Irvine, Calif.
Management

Joe Dada, Founder & CEO
Joe Gerber, President & COO
Dan Cregg, CTO
Mike Nunes, CIO
Matt Kowalec, CMO

Heritage
Insteon's technology and retail footprint are the evolution of Smarthome, a company Joe Dada founded in 1992, and Smarthome.com, founded shortly thereafter, one of the world's first e-commerce sites
Products
More than 200 IoT devices, including dimmers, switches, sensors, thermostats, modules, bridges, energy monitoring, remotes, cameras, LED bulbs, sprinkler control and more
Partnerships & Integrations
Amazon, Apple HomeKit, Apple Watch, Nest, Logitech, Sonos, Cortana, AllSeen Alliance
Website
www.insteon.com
Where to buy
Costco, Walmart, Home Depot, Microsoft Stores, Menards, Amazon, Target, Microcenter, Miejer, TigerDirect, Newegg.com, Sears, Smarthome.com and many more
Consumer Electronics Show – Las Vegas – January 6, 2016 – Insteon®, creators of the world's premier home automation and control technology, today announced an impressive year of significant industry growth consisting of key CE partnerships, retail expansion and home automation integration with some of the world's leading technology companies. Insteon will be highlighting its comprehensive home automation capabilities at CES in booth 70723, located in the upper level of Tech West, Sands Expo.
"Over the past year, Insteon has won recognition from some of the biggest names in consumer electronics. Iconic brands including Apple HomeKit, Amazon Echo, Google Nest, Logitech Harmony, among others, have tapped into Insteon's power to create an always-connected lifestyle where all your things work together in perfect harmony," said Joe Dada, CEO of Insteon. "Insteon has captured the attention of the home automation industry and has found a sweet spot among technophiles, DIY-ers and business customers who want innovative products, complete reliability, undeniable quality and ultimate flexibility – all at an affordable price. With retail distribution at more than 3,000 locations, Insteon is truly at the center of the connected home."
Noteworthy CE Integrations
Insteon has streamlined home automation by integrating with a number of consumer electronics leaders. Now, Sonos owners can control, schedule and automate their speakers from the Insteon Hub. Through this integration, you can play, pause or skip a song directly through the Insteon for Hub app for iOS or from an Insteon wall keypad or wireless remote. You can even schedule your tunes alongside your lights to create rich transitions from day and night or set automated triggers that would turn on your Sonos speaker whenever motion is sensed or doors are opened/closed.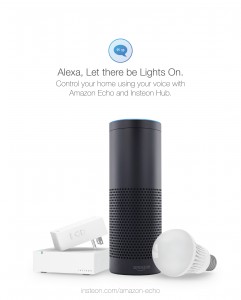 In June, the company launched the HomeKit-enabled Insteon Hub Pro, one of the first products certified to work with Apple HomeKit. The Hub Pro allows iOS users to manage their homes through Siri with the Insteon+ mobile app. Insteon also enables voice control through the Amazon Echo, so Insteon Hub users can ask Alexa to turn on/off various connected devices throughout their homes. The Insteon Hub also works with the Nest Learning Thermostat, integrating with Google's Rush Hour Rewards program. Finally, through a partnership with Logitech Harmony, users can control Insteon devices through any Harmony hub based remote.
These partnerships are further proof that Insteon will make consumer choice the center of its platform by offering seamless compatibility and integration with top product manufacturers, ensuring that a connected home filled with Insteon will never be stuck in the dark ages of IoT.
Expansive Retail Distribution
Over the past year, Insteon's retail availability has grown 20 percent with products currently available in more than 3,000 locations at major retailers such as Costco, Home Depot, Meijer, Menards and Micro Center. Based on strong and sustained consumer demand, new retailers continue to request Insteon products online and in-store. Insteon has also expanded its availability globally, offering home automation products through Philex/Screwfix in the UK and signing an exclusive distribution partnership with Smartnex in Brazil.
Innovative Product Development
Insteon continues to be a leading product manufacturer with a product line of more than 200 connected devices available at retailers around the globe. Recently, Insteon announced the Insteon 2867-22 Alert Module that allows Insteon sensors to sound an alarm whenever triggered. Perfect for consumers who want instant notifications if doors or cupboards are opened, motion is sensed or water leaks are detected, the module features two distinct sound options and can be remotely armed or disarmed with Insteon controllers. The device currently retails for $39.99
The company also announced a new member to their temperate sensing and control solution, the Insteon 2732 Thermostat for Heat Pumps. This new version allows control over HVAC systems with a heat pump. Home owners can use this thermostat to save on energy costs by remotely controlling and programming their heat pump system. The device currently retails for $149.99.
Insteon is the world's best-selling wireless home-control networking technology and has been in business for more than 20 years. Common applications include remote-control HVAC, timers, lighting, cameras, leak sensing, humidity sensing, occupancy sensing, garage-door sensing and control and more. Dual-band Insteon signals communicate simultaneously via radio waves and a home's electrical wiring, making Insteon 100 times more reliable than competing connected home solutions.
About Insteon®
Insteon® transforms the "connected home" from a buzzword into reality. We make life simple by connecting you to the things that matter. Control your lights, alarms, thermostats – all your things – from wherever you are in the world. Insteon's patented technology is simple and reliable, powering the most fail-safe connected home on the market. With more than 200 Insteon products available today and thousands of developers, we bring all of the things in your home into elegant command. It's your house, turn it on.
For more information about Insteon, please visit www.insteon.com, or connect with Insteon on Facebook (www.facebook.com/insteon) and Twitter (www.twitter.com/insteon).