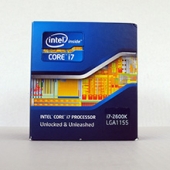 Introduction
The Second Generation of the Intel Core Processor Family took off this past January with many early adopters pleasantly surprised by the abundance of speed, updated technologies, and better graphics integration.  The high-end option in the 2nd Gen family is  the beastly Core i7-2600K.  The i7-2600K takes on all the features of the 2nd Gen i5 series with 1 major addition to the specifications – Intel Hyper-Threading Technology.   For a rundown of Sandy Bridge and the i5-2500K CPU, check out our earlier in depth review of the 2500K.  Here is a quick recap of  the 2nd Gen i5/i7 series major enhancements. Turbo Boost 2.0 providing extra processor power on demand by upping the maximum frequency of the CPU. Integration of CPU and Intel 3000 Graphics with the same 32nm process for both.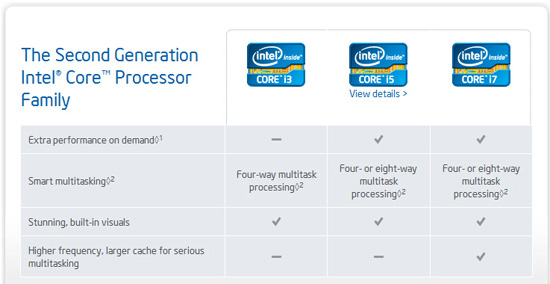 Overview of the 2nd Gen Intel Cores Series codename 'Sandy Bridge'
Today we have a sample of Intel's 2nd Gen Core i7 2600K Sandy Bridge CPU, the K stands for 'unlocked' meaning overclocking is readily available on this model.  With a stock clock of 3.40 Ghz, max turbo of 3.80 Ghz, 4 Cores, 8 Threads, and 8MB of Smart Cache the 2600K is the ultimate power house that promises to deliver consistent performance and an extra boost on demand. With the ability to achieve a stable over-clock of 4.80 Ghz under air, the i7-2600K is a piece of silicon mastery. Combine the nearly 5 Ghz clock speed with 4 cores and hyper threading to give you 8 threads… well you can easily justify the $100 price difference between the i5-2500K and i7-2600K.
<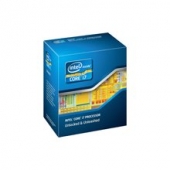 Intel's Take:
The Intel® Core™ i7 processor delivers best-in-class performance for the most demanding applications. This quad-core processor features 8-way multitasking capability and additional L3 cache. With adaptive performance and built-in visual capabilities this 2nd generation processor brings more intelligence to your PC.

2nd generation Intel® Core™ i7 processors feature Intel® Turbo Boost Technology 2.0 and Intel® Hyper-Threading Technology, enabling required security applications and protocols to run efficiently in the background without compromising productivity.

Today's more visually sophisticated communication needs will be met with Intel® HD Graphics 3000 Technology, integrated into 2nd generation Intel Core processors. This eliminates the need for a discrete graphics card, reducing power consumption and system cost.