Packaging and a Closer Look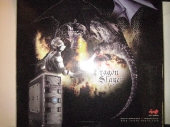 The concept behind the case is chain mail armor form the medieval times . And what are medieval times without dragons, dungeons  and quests? The entire thing smells like adventure. With such a fun theme for the basis of a case the design is only to be limited by the creator. It seems that the designers did not hold back even on the box the case came in. On the side of the box you are faced with a duel between a dragon and a knight. On the flip side there is an image of the case.
Unlike the decorations on the outside, the packaging was fairly standard. The case is wrapped in a nylon bag strapped by 2 foam. This can be seen in the pictures below. While lacking the colors and imagination present on the outside of the box, the foam is an effective way to protect the case. The case arrived without any damage.
Once I have unwrapped the case, I took a snap shot of the front of the case form the front as well as the pictures of the items included with the case. The case is closely representative of the concepts form which it was built. The goodies found inside the case include screws, hard drive rails and an instructions manual.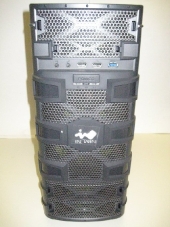 Installation
USB 3.0
The Dragon Slayer case does come prepared with a USB 3.0 jack. However most of the motherboards developed up to date do not come with USB 3.0 headers. Due to that, InWin has decided that it would be more appropriate to make the jack into a USB 3.0 external jack which can then loop around to the back of the case and plug into the fixed USB 3.0 slot on the motherboard. In a sense you can consider this as USB 3.0 extension cord of sorts thanks to which you would not need to reach to the back of the case in order to plug in your USB 3.0 device.