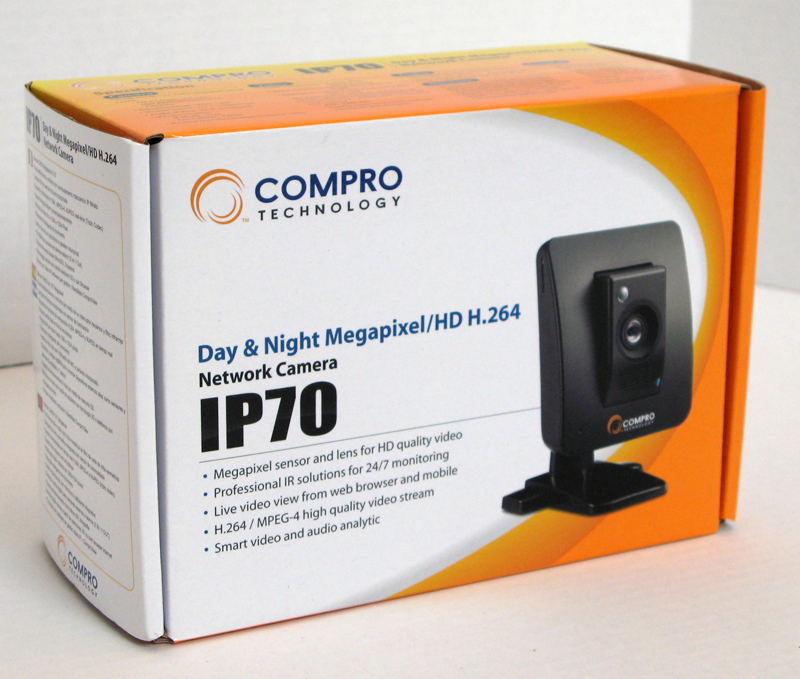 Security and surveillance products are usually very expensive or cheap and lacking performance to make them useful. Compro Technology's latest offering, the IP70 Day & Night internet camera promises to be a high quality solution at an affordable price point. Featuring HD picture quality, a compact size, and multiple viewing options from web browser streaming to the included software suite, what more could you ask from an IP camera? Many devices lack simple functionality such as on-board audio, event triggers, motion detection, and night viewing abilities via infrared LEDs. The IP70 camera would be a great starting point for any home or business looking to add a set of eyes and ears to any internet enabled location. Want to check in on your cat or dog whilst at work during the day? Need to keep track of inventory or employee clock-in/out times? No problem, the IP70 it your internet enabled watch dog that requires no feeding or cleaning, just an Ethernet cable or the optional wireless adapter to connect the cam to the world wide web. Join me as I explore the IP70 camera in greater detail in the following pages…
Compro Technologies take:
Compro IP70 camera series offers best-in-class high quality megapixel HD image yet affordable surveillance solution, ideal for securing locations such as home, small business, hotel, shop, or restaurant. Utilizing Megapixel/HD technology enables IP70 to view detail and identify people and objects at least three times better than the conventional CCTV camera. Combining with dual H.264 and MJPEG streams to enable optimization of different bandwidth of networks and various image sizes of devices from PC to Mobile phone.IP70 bundles a full range of applications to provide an intelligent surveillance total solution – iWizard is a smart installer to turn the complicated network camera installation to a simple and fast process; WebVUer is an intuitive IE based video management software includes all the key features for trouble-free monitoring home surveillance; ComproView is a powerful feature rich 32 channels professional grade multi-camera video management solution for business surveillance.
Key Features
1/3″ CMOS Megapixel sensor
Day and night functionality with mechanical IR cut filter switching
Built-in IR lamp with light sensor
Supports real-time H.264, MPEG-4 and MJPEG compression (Triple Codec)
Supports dual streams simultaneously
Support 4x digital zoom
Video resolution is up to 1280 x 1024 pixels
Image frame rate is up to 30 frames under 640×480 or 15 frames under
1280 x 1024
Smart motion detection
Two way audio with built-in MIC and speaker
Support UPnP (universal plug and play)
Support 10/100 802.3/Ethernet
802.11b/g/n WLAN on applicable model (Optional W155 wireless adaptor)
Digital I/O for External Sensor and Alarm (2 In/1 Out)
Supports local storage (MicroSD / MicroSDHC), Snapshot
Remote monitoring from 3GPP mobile or phones with web browser
(e.g. iPhone/BlackBerry)
Bundle with powerful 32-channel IP video management software — ComproView