Introduction
When it comes to storage devices, especially external ones everything boils down to 3 very simple and precise topics: Versatility, Portability, and most importantly Speed. Same applies to external docks. Essentially it doesn't really matter how fast the drive is, if the controller on the dock is not capable of handling the speed of your drive, then your drive will be just as fast as the dock permits it to be. In general external docks usually come with USB 2.0 interfaces which give the user more versatility in terms of what compatibility with the host system, but in turn cap the speed at approximately 30 MB/s (480 Mbps is the limit of USB 2.0). FireWire caps the speed at 400 Mbps so it is even slower than USB. Those of you who do not have deep pockets will probably not be unwilling to lay down ~$300 for a USB 3.0. So what is the alternative? e-SATA is the answer. e-SATA offer speeds that come very close to the speeds that your hard drive gets while it is directly plugged into the motherboard. iStarUSA is one of the companies that came to its senses and decided to offer an eSATA function to their hard drive docking station the xAGE-N99-SAU/US. So the only question that remains is just how close did they get their controller to the motherboard speeds? Read on and find out.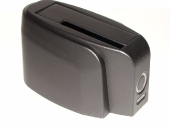 Specifications
| | |
| --- | --- |
| Model Number | xAGE-N99-SAU |
| RoHS Compliance Version | Yes |
| Dimensions (W x H x D) | 3.47 x 5.91 x 3.15 inch |
| HDD Interface | 2.5″/3.5″ SATA I/II |
| Host Interface | USB2.0/eSATA |
| LED Display | Power On/HDD Access |
| Material | Plastic (ABS) |
| Color | Black |
| Power Adapter | 100-240V/AC to DC 12V 2.0A |
| Packaging Information | Docking Station, eSATA Cable, USB Cable, HDD Cover(optional), and Power Adapter |
Testing
Hardware: Patriot 32 GB Solid State Drive
Computer: ASUS G51VX Laptop
The ASUS G51 has 2 hard drive slots and an eSATA port so it made it a perfect candidate to test out both the mobility aspect of the external storage and versatility aspects of the enclosure. For speed testing the benchmarks speak pretty much for themselves.
Versatility
Before we get too deep into testing, a few words about versatility are in order. As you can see from the pictures the dock was designed to for both 3.5" and 2.5" drives. The dock is capable of being hot swappable, but given the fact that that the "swappablity" involves you yanking the hard drive out of the dock while it is spinning at 7200/5400/… RMP is really not recommended as it can and probably will damage the drive. The drives are covered by either a large or small rubber case to protect them from damage as well as static discharges.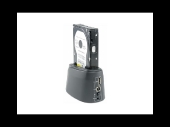 The fact that the dock has both eSATA and a USB 2.0 adds to the docking stations already good versatility score. Older systems or systems without an eSATA port can use the USB interface while systems that do have an eSATA port can take advantage of higher throughput.