Introduction:
While there many advantages in obtaining an ITX board with integrated processor for your home theater system instead of building a system from scratch there is one obvious disadvantage to ITX – performance. Performance may not be very important if all you are going to be doing with you home theater PC is surfing the internet, but if you are planning to watch HD movies then the video performance must be up to par with a hand built system or an aftermarket video adapter. As we discovered in our previous reviews, the performance in the JNC96 was sufficient to render 720p movies but lagged behind in the Full HD (1080p) department. The JNC98-525E-LF brings around change. Not only has Jetway fitted this board with the newest Atom processor running 1.8 GHz (200 MHz increase), but also added the nVidia's Next-Generation ION graphics. How will this board fare against its predecessor . . . read on and find out.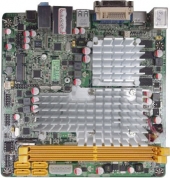 NC98-525E-LF
A Closer Look
A closer look at the board itself reveals that the board contains 2 ram slots each capable of running up to 4 GB DDR2 @ 800 MHz. It also has support for 4 SATA drives, though the MOLEX power cable that comes with the board provides power for only 2 SATA drives. An especially neat feature about the board is that it is passively cooled. This directly translates to less noise for the entire setup.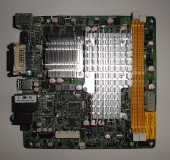 The accessory list is as follows:
2 x SATA II Cables
Serial Cable
MOLEX power cable
Instructions Manual
Driver DVD
Faceplate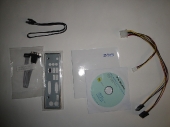 Specifications
There are a couple of significant specification changes from the old chipset to the new one. First off is the new processor. The new Atom D525 processor in addition to stepping up in speed also brings forth the capability of using both DDR3 and DDR2 memory. This new feature, however, comes with a major issue where only half of the DDR3 memory was seen by the processor. Instead of using a faulty configuration, Jetway decided to stick with the proven DDR2. The motherboard also uses the Next-Generation ION chipset which promises better performance than it predecessor.
INTEL ® Atom Processor D510 (45nm, 1.66GHz,1024MB L2 Cache)
INTEL ® Atom Processor D525 (45nm, 1.80GHz,1024MB L2 Cache)

INTEL® Atom Processor D510 / D525 +NM10 Express Chipset

2 * 240-pin DIMM Sockets for un-buffered Single Channel DDR2 800/667 SDRAM up to 4 GB

4 * Serial ATA2 3Gb/s connectors. SATA 3 & 4 Support RAID 0, 1, JBOD

Realtek ALC662 6-Channel HD Audio CODEC

Realtek 8111DL 10/100/1000 LAN

Intel Atom Processor D510 / D525
Support DC FAN
Support CPU Smart Fan

4 * USB 2.0/1.1 ports
1 * PS/2 KB/MS Connector
1 * Audio I/O ports ( Line-in, MIC and Line-out ) & 1 * Optical Out
1 * VGA port / 1 * DVI-D port / 1 * HDMI port
1 * 12V DC in
1 * Gigabit LAN

2 * USB 2.0 headers for 3 * USB 2.0 ports
3* FAN headers
1 * CD IN /1 * GPIO
1 * AUDIO header
1 * CIR header
1 * COM header
1 * MINI PCI-E connector

AMI Flash ROM Write protect

Data Storage, medical Equipment, Media Center application, Networking, General Application, Gaming Machine

Operating within 0~50 centigrade (Suggest to use system FAN)
Storage within -20-85 centigrade

Mini ITX Form Factor(17cmx17cm)