Nettop or Desktop
So the idea of a small computer in your living room, bedroom, or kitchen  appeals to you. You like the idea of a computer that consumes very little power, makes almost no noise, and yet still allows you to do you daily tasks. You are concerned that the this little PC may not have the power to watch movies or do everything that your desktop or laptop can do. Well the short answer is you are right AND you are wrong.
Today we are going to take a look at the Jetway Mini-Top Nettop PC which is an Intel Atom based machine which utilizes nVidia's next gen ION2 chip. The ION2 is supposed to give them graphics subsystem enough of a kick in the pants to allow you to watch movies and do some very basic 3D tasks. Something most integrated Intel graphic chipsets can't do. It is supposed to accomplish this while at the same time not consuming a lot of power and having a small thermal footprint.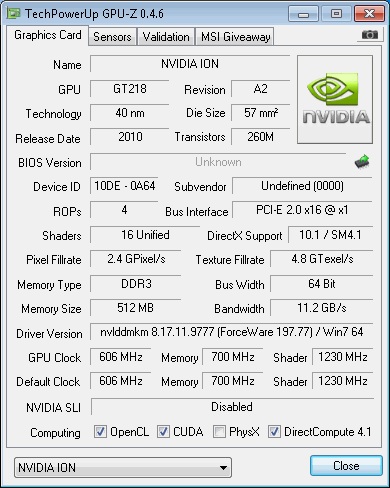 The Jetway Mini-Top is a step up from your standard netbooks on the market utilizing single core Atoms as the Mini-Top we are looking at is using a dual core Atom 510 or 525.
Lets take a look at the Specs.
Model No.
JBC600C99-52W
Product No.
HBJC600C99-52W
Motherboard Specification
CPU
Intel® Atom Dual-Core 525 CPU (45nm, 1.80GHz, 1MB L2, 13W)
Chipset
Intel NM10 (Formerly Tiger Point) + NVIDIA Next Generation ION (ION2)
Memory
2 * SO-DIMM Slots
Support DDR2-800/667 Single Channel DIMM slots (up to 4 GB)
VGA
NVIDIA ION2 Graphics Processor
LAN
1 * Realtek RTL8111DL PCI-E Gigabit Ethernet
1 * Atheros 802.11 b/g/n Mini PCI-E WiFi Card
Audio
C-Media CM108AH Audio with SPDIF out (Support AC3 & DTS)
Nvidia L-PCM digital audio (HDMI 1.3) can support 7.1 output with external decoder
Storage
1 * Serial ATA2 3Gb/s connector (For 2.5″ SATA HDD only)
1 * eSATA Port
USB
Embedded 5 * USB 2.0/1.1
BIOS
AMI 8MB Flash ROM
Barebone Specification
Product size
205(W) x 185(D) x 30(H)mm
Colors
Black / White Color
Front I/O Port
2 x USB 2.0
1 x SD/MS 3 In 1 card reader (SDC/MMC/MS)
1 x MIC & Headphone w/SPDIF out
1 x Power Button
1 x Power LED
Rear I/O Port
2 * USB 2.0/1.1 ports
1 * eSATA/USB port
1 * HDMI 1.3
1 * DVI-I
1 * RJ-45 ports
1 * 12V DC in connector
1 * WiFi Antenna hole
Expansion Slots
mini PCI Express x1 Slot (with a 802.11 b/g/n WiFi Card)
Standard Accessories

60W AC-DC Adapter x1
Power Cord x1
Stand x1
CD Disk x1
Manual x1
mini PCI Express 802.11 b/g/n WiFi Card x1
WiFi Antenna x1
Jetway Remote Control x1

Optional Accessories

LCD VESA Mount x1
Wireless Keyboard x1
Wireless Karaoke Microphone x1

Functional
Set Top Box, Thin Client, Carputer, Smart Mini PC, POS/POI, KIOSK, HTPC
Packing
Color Box Dimension:417(W) x 137(D) x 296(H)mm
Gross Weight:3.65KG
Net Weight:3.02KG
Certificate
CE,FCC For Barebone
CE,FCC,TUV,UL,CCC,CB For Power Adapter
As we mentioned the Mini-Top comes in two flavors:
JBC600C99-52W (Intel® Atom Dual-Core 525 CPU (45nm, 1.80GHz, 1MB L2, 13W)
JBC600C99-51W (Intel® Atom Dual-Core 510 CPU (45nm, 1.66GHz, 1MB L2, 13W)
While both processors are rated at the same wattage the truth is the Atom 510 model will consume slightly less power. The difference is negligible and the computing power of the 525 more than makes up for the power consumption.