Kingston DataTraveler Ultimate 3.0 G3 64GB USB Thumb Drive

I am continually impressed with Kingstons products and as a company. I had an opportunity to visit their factory a few years back and was very impressed with their use of technology and how modern their facilities were. It is no wonder to me that they produce superior products to most companies and that their memory is among the most reliable and highest performing.
Today I am taking a look at the new Kingston DataTraveler Ultimate 3.0 G3 64GB USB thumb drive. As its name implies this is a USB 3.0 drive and according to the specifications supports transfer rates of up to 150MB/s Read and 70MB/s Write. I will test the reality of that a little later in this review. You may be pleasantly surprised by the results.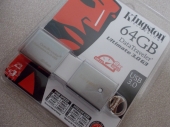 According to Kingston:
Kingston's DataTraveler® Ultimate 3.0 Generation 3 (DTU30G3) features USB 3.0 technology, which enables incredible data transfer speeds up to 150MB/s read and 70MB/s write (in USB 3.0). Now you can transport high-resolution photos, HD videos, music and more with incredible speed and ease. Its attractive, capless design complements Mac products and other stylish mobile devices. DTU30G3 is Mac and Windows compatible and backwards compatible with USB 2.0 ports. It's backed by a five-year warranty, free technical support and legendary Kingston® reliability.
 Space and Speed:
When it comes to USB thumb drives there are two primary factors involved; space and speed. They are important in that order as well. Remember functionality wins every time so if the drive doesn't have enough space it doesn't matter how fast it is it is not useful. Likewise you an have a large capacity thumbdrive but if its slow then you are less likely to use it even though it is still functional. Don't discount speed when it comes to USB thumb drives. Speed is a critical factor and will determine how often you use the drive in the end.
How often have you found yourself on the way out the door and waiting for a file or files to finish copying to your external or thumb drive? Do yourself a favor and get a faster drive.
The DataTraveler Ultimate 3.0 G3:
The new G3 DataTraveler Ultimate announced at CES 2013 brings even greater performance to the DT line. The Ultimate 3.0 G3 sports an aluminum over plastic enclosure that should offer the drive some protection from bumps, bangs, and cracks. The brushed aluminum housing is not just for show either as it is quite thick and looks to wrap around the device on the corners and each end is made of a solid piece.