Fountain Valley, CA – January 6, 2016 – Kingston Digital, Inc., the Flash memory affiliate of Kingston Technology Company, Inc., the independent world leader in memory products, today announced KC400 solid-state drive, the newest addition to its SSDNow family. Designed for enterprise client workloads, KC400 SSD is 15-times faster* than a hard-disk drive delivering consistent performance for both compressible and incompressible data, and improved responsiveness in performance-hungry applications.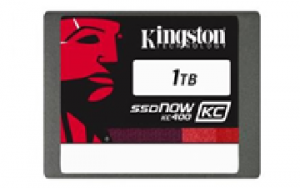 KC400 SSD provides end-to-end data path protection and SmartECC™ to guard data plus SmartRefresh™ to protect against read errors. Data is rebuilt if there's an error, and the drive is able to recover from an unexpected power shutdown, via firmware-controlled power loss management. The drive provides excellent data reliability due to the highly advanced Phison PS3110–S10 eight-channel controller and quad-core processor. KC400 is available in 128GB, 256GB, 512GB and 1TB capacities2.
"Our latest drive is designed to help business and power users speed up daily tasks and improve productivity," said Ariel Perez, SSD business manager, Kingston. "Corporate customers should have full confidence in deploying the high-performance KC400 SSD in the workplace with all of the safeguards in place to combat unforeseen data loss."
To further help companies and organizations out, Kingston offers industry-leading sales support through its Ask an Expert program. It also offers the Kingston SSD Manager, a free, downloadable toolbox to monitor drive health, status and disk usage.
KC400 SSD is backed by a limited five-year warranty1, free technical support and legendary Kingston reliability. For more information, visit www.kingston.com.
KC400 SSD Features & Specifications:
Form factor:5″
Interface: SATA Rev. 3.0 (6Gb/s) – with backwards compatibility to SATA Rev. 2.0 (3Gb/s)
Capacities2: 128GB, 256GB, 512GB and 1TB
Controller: Phison PS3110-S10
Sequential Read/Write 3: SATA Rev. 3.0 o 128GB – up to: 550/450MB/s o 256GB – up to: 550/540MB/s o 512GB – up to: 550/530MB/s o 1TB – up to: 550/530MB/s  Maximum 4k Read/Write3:

128GB – up to 99,000/87,000 IOPS o 256GB – up to 99,000/88,000 IOPS o 512GB – up to 99,000/86,000 IOPS o 1TB – up to 99,000/89,000 IOPS  Random 4k Read/Write3:
128GB – up to 88,000/87,000 IOPS o 256GB – up to 88,000/89,000 IOPS o 512GB – up to 86,000/88,000 IOPS o 1TB – up to 86,000/89,000 IOPS

PCMARK® Vantage HDD Suite Score: 84,000
Enterprise S.M.A.R.T. Tools: reliability tracking, usage statistics, life remaining, wear leveling, temperature
Total Bytes Written (TBW)4: o 128GB − 150TB 65 DWPD5 o 256GB − 300TB 0.65 DWPD5 o 512GB − 800TB 0.87 DWPD5 o 1TB − 1600TB 0.89 DWPD5
Power Consumption:255 W Idle / 0.335 W Avg. / 1.22 W (MAX) Read / 3.74 W (MAX) Write
Storage temperature: -40°C ~ 85°C
Operating temperature: 0°C ~ 70°C
Dimensions:9mm x 100.1mm x 7.0mm
Weight: 60g
Vibration operating:17G Peak (7–800Hz)
Vibration non-operating: 20G Peak (10–2000Hz)
MTBF: 1 million hours
Warranty/support: Limited 5-year warranty with free technical support1
* The KC400 is 15x faster than a hard-disk drive when compared using the PCMark Vantage Bandwidth Performance Test running on an Asus Z87 Maximus 6 Extreme motherboard.
Limited warranty based on 5 years or SSD "Life Remaining," which can be found using the Kingston SSD Manager (kingston.com/SSDManager).
Some of the listed capacity on a Flash storage device is used for formatting and other functions and thus is not available for data storage. As such, the actual available capacity for data storage is less than what is listed on the products. For more information, go to Kingston's Flash memory Guide at com/flashguide.
Based on "out-of-box performance" using a SATA Rev. 3.0 motherboard. Speed may vary due to host hardware, software, and usage. IOMETER Random 4k Random Read/Write is based on 8GB partition. 4 Total Bytes Written (TBW) is derived from the JEDEC Client Workload (JESD219A). 5 Drive Writes Per Day (DWPD)