Installation
Installation was not quite as easy as I thought it'd be. As I mentioned before, I did not receive an instruction booklet with this product, so I had to guess. At first I fastened the side panels to the top of the frame. This was not a secure fit and I quickly realized that I had improperly installed the device. After a few seconds of staring at the box art, I found that the proper way is to insert the tabs of the side panels underneath the screw inputs and not on top. This lead to a much more snug and secure installation. Also, this fastens to the outside of the clips that secures your RAM and should not touch the RAM or the motherboard.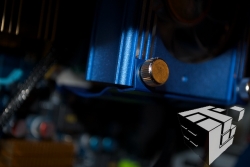 The HyperX Fan is also a little big and I had to move my Graphics card to the second PCI-Express slot on my Crossfire board to install it without it touching the card. Keep that in mind if your GPU is a little close to your RAM, but this is more of a unique problem to this board, and may not affect you. Also, the two 60mm fans did add some noise to the machine when my computer was on, but once the side panel was on, there was practically no difference. Just cooler RAM.
Testing
Test Rig

| | |
| --- | --- |
| CPU | Intel Core 2 Quad Q9400 |
| Motherboad | Gigabyte EP45 DS3R |
| RAM | Kingston HyperX DDR2 800 |
| Heatsink | Vantec AeroFlow FX 120 |
| GPU | Palit Radeon 4850 |
| Case | Gigabyte Poseidon |
| Power Supply | FSP Group Everest 80PLUS 700 |
Because my motherboard does not have a thermal sensor for the RAM, I used the NZXT Sentry LX to see the temperature of the RAM.
I started my test by finding the temperature of my RAM at boot, idle/light load, and by playing TF2 for about 3o minutes without the HyperX Fan (light load was surfing the internet with Google Chrome and watching a little bit of YouTube).
I very carefully inserted one of the Sentry's probes in between the two RAM banks as so.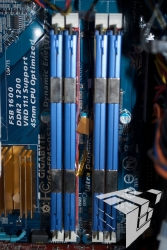 Then I turned on the computer and began the tests.
After telling myself to stop playing TF2 for the 5th time (Demoman FTW) I got some good results and then started the long process of trying to figure out how to install the HyperX Fan (with an instruction booklet, this would have been much simpler and not as long; see Installation). I then inserted the probe as close to before as I could and started the same slew of tests.