Let me share a story with you. I was the network administrator for a group of small businesses and because I was mobile I was completely reliant on my laptop. Nine months after the rest of my team was let go for "budget reasons", my hard drive died. If you want to see a grown man cry like a three year old, find an overworked IT admin and kill their hard drive. In an ideal world I would have had a recent backup, however, in an ideal world incompetence wouldn't be rewarded with promotion. For the imperfect (cough real) world I recommend installing a solid state drive.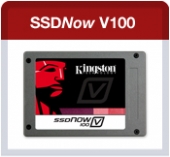 Today I will be taking a look at the Kingston SSDNOW V100 Notebook upgrade kit. Here is Kingston's Take:
"SSDNow V100 is ideal for consumers or small businesses looking for an affordable way to extend the life of desktops or notebooks at a lower cost than a replacement system. It's perfect for home users, freelance designers and photographers, video editors, researchers, administrators and educators, and anyone who travels for their job. It's built with no moving parts to provide durability and reliability and meet the needs of professionals in the office or on the road.
The switch to an SSD solution is made easy via upgrade kits for either notebook or desktop systems. The V100 kits include everything for installing the SSD such as cables, brackets (desktop only) and software to clone all the user's key files – documents, movies, music, games – and OS in minutes. The notebook kit comes with an enclosure to repurpose the system's old hard drive into extra storage via a USB port."
Kingston has set out a clear description of exactly what they intend to do, warm you up with promises of  an easy transition, and win you over with performance and new accessories. I for one, will not be sold so easily. Lets take a closer look.