Knight 4 Gamers UCF Event November 19th 2010
Expecting over 3500 to be in attendance for this event TechwareLabs came prepared to show off some cutting edge hardware to the crowd. We brought with us several of the TWL staff and quite a bit of hardware as well as give a ways donated by our generous sponsors.
Early on the event was plagued with power and setup problems which were resolved but not before the doors opened. Event organizers managed to address these problems eventually and we were able to get not only our systems up but also start the excitement by firing off our shirt cannon into the crowd.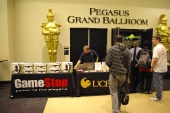 The line to get in stretched down the hall and outside the building where more entertainment was set up. All told the event spanned three floors of the Student Union as well as an outside area. We are still waiting for the official final numbers to come back from the organizers but we wouldn't be surprised to find that the event drew at least as many as expected.
Games For All
Those in attendance were treated to a volley of entertainment not only from TechwareLabs but also from Microsoft and others. The full list of sponsors includes:
TechwareLabs (Call of Duty: Black Ops Tournament and Giveaways)
MicroSoft (Kinect gameplay)
HP and Intel (Blacklight dance floor)
Apple (Race Tournament for iPad Giveaway)
ATT
GameStop
Late Knights
Here are some Random Pics:
Visitors to our display were able to sit down and play the latest Call of Duty: Black Ops game in a 1 vs 1 setup as well as get time on our NZXT Phantom demo machine. Attendees were able to watch their progress on any of the three screens setup to mirror each of our demo units. The NZXT Phantom projector was provided courtesy of Epson as was given the big screen.
We used the Epson EX7200 which is a business oriented projector with a resolution of 1280 x 800 and 2600 lumens. With these specifications the EX7200 did remarkably well. I am definitely sold on using projectors for all multi-media needs. The EX7200 that Epson sent us has a street pricetag of approximately $649. Compare that to your LED or LCD TV and remember that the EX7200 is portable and can project up to a 318″ screen size. Try getting a 318″ TV for the same price.
Several of the attendees asked about the projectors in use about their appropriateness for home theater setups and the cost. I have to honestly say that if you have not considered a projector then you are missing out on an amazing movie experience for cheaper than you might imagine. Stay tuned as we will bring you a full review of our Epson projector in the coming week.
Many attendees were able to take the commanders seat in front of the NZXT Phantom which drew considerable attention during the event. White seems to be the new Blue in tech trends as many wanted to know how much and where they could buy the Phantom. Completing the Phantom was one of our test machines:
AMD Phenom II X4 970
Asus Crosshair III Formula
8GB DDR3 OCZ Platinum
NXZT 1000W Hale90
NZXT Sleeved LED Kit – Blue
ATI 5890 Video Card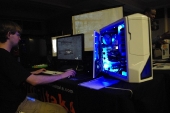 Also on display were two powerhouse machines from Thermaltake:
These two machines were used in our COD: Black Ops Tournament in which the attendees competed for prizes to be given away at the end of the night. Thermaltake graciously donated:
Many inflatable Thermaltake eSports Hammers and Lanyards
At the end of the night we announced the winners of the Tournament and gave away some prizes: